Return to Headlines
LETTER FROM SUPERINTENDENT ON PARENT TEACHER CONFERENCES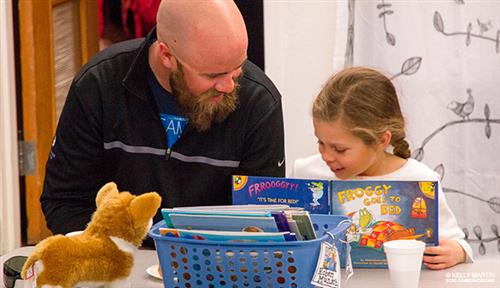 October 2019
Dear Parents,
Can you believe that we are nearly one-quarter of the way through the school year? All Wood River Valley schools will end the first quarter on October 18. Carey School will finish their first trimester on November 8.
As we approach the end of this first learning period, teachers and administrators are busy reaching out to parents to schedule conferences. Our goal is to communicate with every student's parent(s). Please make sure you are talking with your child's teacher(s) about their progress. When our children see their parents and teachers communicating, we show them we are a team working together to ensure they master the standards.
Be ready to share with your child's teacher:
What your child enjoys about school.

What your child enjoys learning (at school or someplace else).

What your child finds difficult about school.
Be ready to ask your child's teacher:
What is your child doing well at school? What are his/her strengths?

What is your child struggling with at school? Where is improvement needed?

What can you and the teacher do, together, to help your child?
We are honored to have your child in our schools. Thank you for sharing your most precious possession with us. We are committed to ensuring every student is inspired, engaged, educated, and empowered.
With gratitude,
GwenCarol Holmes
Superintendent
Octubre de 2019
Estimados padres de familia:
¿Pueden creer que vamos a casi una cuarta parte del camino del ciclo escolar? Todas las escuelas de Valle del Wood River finalizarán el primer término el 18 de octubre. La escuela Carey finalizará su primer término el 8 de noviembre.
A medida que nos acercamos al final de este primer período de aprendizaje, los maestros y administradores están ocupados contactando a los padres para programar reuniones para la entrega de calificaciones. Nuestro objetivo es comunicarnos con el(los) padre(s) de cada estudiante. Asegúrese de tener una plática con los maestros de su hijo sobre su progreso. Cuando nuestros hijos ven que sus padres y maestros se comunican, les mostramos que somos un equipo trabajando juntos para tener la seguridad de que dominan los estándares.
Vaya preparado para compartir con el maestro de su hijo:
Lo que su hijo disfruta de la escuela.

Lo que su hijo disfruta aprendiendo (en la escuela o en otro lugar).

Lo que a su hijo le resulta difícil en la escuela.
Vaya preparado para preguntarle al maestro de su hijo:
¿Qué está haciendo bien su hijo en la escuela? ¿Cuáles son sus puntos fuertes?

¿Con qué está teniendo dificultades su hijo en la escuela? ¿En que necesita mejorar?

¿Qué pueden hacer usted y el maestro, juntos, para ayudar a su hijo?
Es un honor tener a su hijo en nuestras escuelas. Gracias por compartir su posesión más valiosa con nosotros. Nosotros estamos comprometidos a garantizar que cada estudiante esté inspirado, involucrado, educado y capacitado.
Con gratitud,
GwenCarol Holmes
Superintendente