Return to Headlines
Winter Sports Program 2018 Information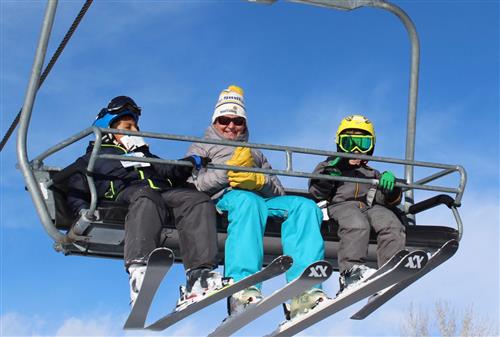 Ernest Hemingway STEAM School is looking forward to another season of the Winter Sports Program. First through seventh grade students at Hemingway will again have an opportunity to participate in our supervised ski/snowboard/skate/snowshoe program. The following will outline the details of this program which allows all students, from beginning to advanced abilities, to participate at no cost.
Who and Where: Skiers:
ALL 1st graders and 2nd - 7th grade beginning skiers will ski Dollar Mountain.

2nd - 7th grade students who are able to ski Baldy competently may ski Baldy.

SVSEF Devo Ski Team Members:
SVSEF Devo team will have coaches available on ski days. Team members may choose to ski with their coaches. Sign up as a Baldy skier on the Purple form and circle "Devo Team".

Snowboard team members may sign up and board with the Hemingway program. SVSEF snowboard coaches will NOT be available.

Members of teams who train on ski days (Thursdays) should NOT sign up for the program. Ice Skaters:
• 1st – 7th Graders skate at the Sun Valley Ice Rink (all levels of skaters).
Nordic Skiers and Snowshoers, 3rd - 7th grade ONLY:
• Nordic Skiers will ski at Sun Valley Nordic Center (all levels of skiers). Snowshoers will hike on school property (Atkinson's Park). Snowshoeing is limited to 20 students.
Boarders:
• 2nd - 7th grade students with snowboards may snowboard on Dollar or Baldy according to their ability. Snowboarders must be experienced. No beginners please. Your 1st grader will be allowed to snowboard ONLY if you volunteer in our program on Dollar.
When:
4 Thursdays; January 17, 24, 31, and February 7.
Baldy skier/boarder bus will leave school by 1:15. They will ski until 4:00.

Dollar skier/boarder bus will leave school by 1:30. They will ski until 4:00.
Parents must pick up their students at Dollar Lodge or the River Run Lodge at 4:00.
Nordic Skiers and Ice Skaters will leave school at 12:45 and ski until 2:00. These students and Snowshoers will arrive back at school in time to ride their regular buses home.