Return to Headlines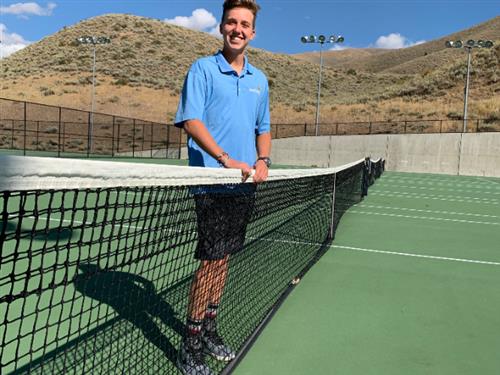 By Eric Valentine for The Weekly Sun
He may not know exactly what he wants to do down the road, but one look at Nick Maumus's high school career spells out how he's likely to get there: with gritty determination and a sense of things larger than himself.
Maumus is a 4.0 student currently taking three Advanced Placement courses as well as a dual-credit class. And while that's impressive, it's just a snapshot of his entire high school career. Maumus is a two-sport athlete for Wood River High School, in swimming and tennis. Both are individual sports, per se, but Maumus sees how cooperation with teammates and competitiveness with opponents make them something else.
On swimming, Maumus says, "I like the bonds I form with fellow teammates and my coaches. They push me to do the best I can at races and practices. They want me to achieve my goals and the goals set for me, which creates a healthy team community."
On tennis, he adds, "The structure makes it seem like chess, an epic battle where I trade blows with my opponent and whoever is the strongest, both mentally and physically, will prevail. It is this gritty feeling I get during a match that pulls me to the court and fuels me in practice."
Maumus has also been pulled toward a variety of extracurricular activities around the Valley and on campus. He is involved with the Model United Nations; he is a lifeguard at YMCA summer camps, a counselor at Atkinson Park, and a tennis pro at Sun Valley Tennis.
"I'm not sure what career path I want to pursue yet," Maumus said.
But he's pretty sure about how to get there.
"I'm planning on applying to some East Coast business schools, or some bigger schools, like the University of Washington or Cal Poly. I plan on majoring in business/economics with either a second major in psychology or a minor in psychology," Maumus said.
Wherever he heads, Maumus knows he'll miss living in the Valley.
"We live in a great community that fosters personal growth, intellectually, emotionally and physically. The opportunities available to us provide an amazing place to raise a child," Maumus said. "Blaine County School District is one that allows us to succeed; those who put in the effort can reach seemingly unattainable heights. Every person I've met in this community has pushed me to succeed and has done everything in their power to propel me toward the next step."
So what does a young man with that level of social consciousness hope he can bring to the world? Help put an end to groupthink, he says.
"It is the foundation for some of our flaws as humans, such as racism, sexism, and other prejudices," Maumus explained. "When we group people, we exclude the possibility of learning from them and thus diminishing our chances to create a better-informed and understanding society."
Each week, the Weekly Sun will be profiling a local high-school student. If you know someone you'd like to see featured, e-mail news@theweeklysun.com. The Student Spotlight is sponsored by the Blaine County School District.