Return to Headlines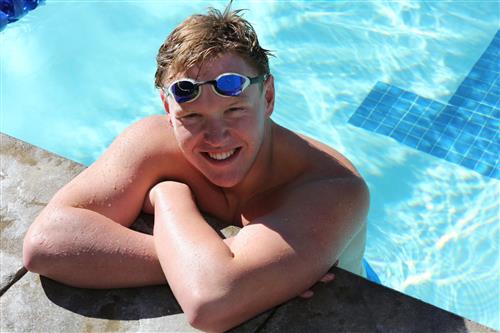 Zachary Deal
Sought after by NCAA Division 1 schools for boys' swimming
By Emilee Mae Struss for The Weekly Sun
The Wood River Valley can lay claim to the State of Idaho's best boy swimmer.
Zachary Deal won the Twin Falls Times-News newspaper's Boys' Swimmer of the Year in 2017 and has competed at the 4A state championships in boys' swimming all four years while attending Wood River High School.
"I find a lot of meditation in it [swimming]," Deal said. "I also really like the physical aspect of it and enjoy working to improve myself every day."
Deal's best event is the 100-meter breaststroke. He took first place at the state competition in both 2017 and 2018. But his favorite event to talk about is the 2018 medley relay.
"There was a group of us that sat down before the season and said, 'There is a possibility for this group of guys to go to state'," Deal said. "And around here that's a big deal and a cool opportunity to represent our school."
The event was the 200-meter freestyle relay and the pre-race analysis predicted the boys to come in about fifth or sixth at the district level. They would need to finish at least fourth to qualify for state.
"We huddled up before the race," Deal said. "There was a lot of hype, and then right before the race, it was complete calm."
Deal was the last swimmer in the relay—the anchor.
"I saw we were in fifth or sixth place during the race," he said. "And so I realized I needed to pull off the swim of a lifetime."
His teammates lined the pool deck in Wolverine gear, screaming for Deal.
He put his head down and swam his best time, bringing the team in at third place and qualifying for state.
"That was easily the most impactful moment for me," Deal said.
Deal started swimming around age 5 and now spends anywhere from 20-30 hours a week in the pool. All of this time has paid off and he is now talking to several NCAA Division I colleges about competing at a whole new level.
It's between University of Maryland - Baltimore County, Penn State University or the University of Denver.
Deal has found the greatest interest in math and science classes and plans to pursue a degree in engineering. His interest in engineering, similar to his interest in swimming, started at a young age. He joined the robotics program in middle school and participated in the club up until high school.
His classes right now include A.P. Calculus, A.P. Physics, College English and American Government. The D-1 schools are interested in Deal for more than just athletic performance; with a 4.2 GPA, he has also been offered academic scholarships.
"The number one person who has inspired me is my coach, Brian Gallagher," Deal said. "He as been coaching me since I was 10 years old and he's like a second father to me."
Deal also shared that several teachers from WRHS have also made a big impact on him.
"We have great opportunities as students," Deal said. "They [teachers at WRHS] teach me a lot about the way the world works and it shows in the student body."
Deal is ready for new challenges and a greater level of competition. In regards to moving across the country, he says he is excited to experience a place with more people in each class than people that live in his entire hometown.
"And my mom," Deal said, "she has been so supportive of me, even though I am going to be moving far away. She is just so supportive."
Each week, the Weekly Sun will be profiling a local high-school student. If you know someone you'd like to see featured, e-mail emilee.struss@gmail.com.