Return to Headlines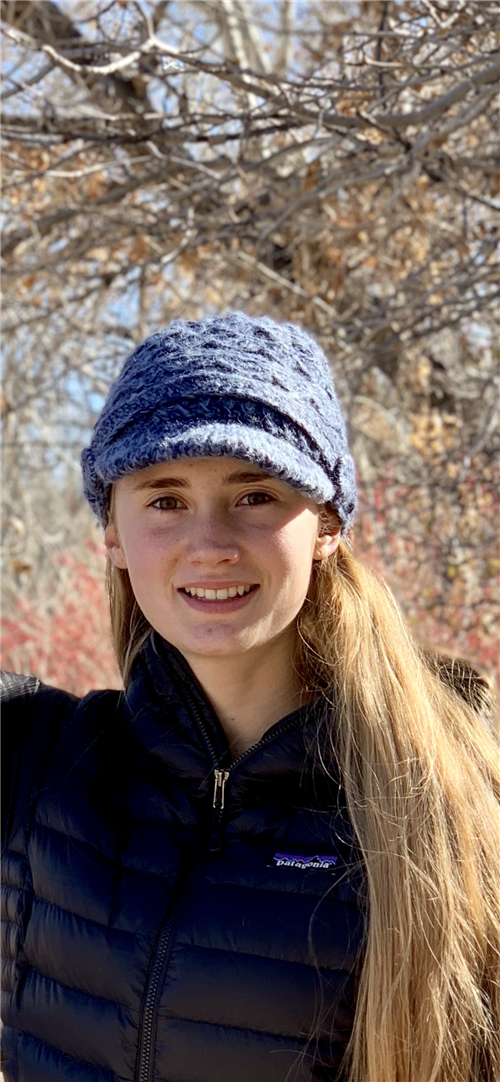 Traducción al español
Geneva Dupuis
Dupuis Aspires to Ride Greater Trails
By Emilee Mae Struss for The Weekly Sun
Wood River High School junior Geneva Dupuis knows mountain biking from the inside out. She was a founding member of WRHS's mountain biking club, and, when it came time to work on her personal project, which every Wood River senior must complete to graduate, she dismantled her first mountain bike, learned about every single piece, and put it back together. Once she finished her project, she then gave the bike to a friend that wanted to learn how to ride but couldn't afford a mountain bike.
"I've tried a lot of different sports in my life," the former Girl Scout said, "but mountain biking is by far my favorite."
Dupuis has been to state three years in a row with the mountain bike team and has seen it grow from 20 to 60 students over the years.
Her favorite training trails are Forbidden Fruit in Adams Gulch; Greenhorn trails; and Rip & Tear on the Galena trail system. And when the trails are covered in snow, she takes classes through the Blaine County Recreation District to stay fit.
Dupuis is working at The Elephant's Perch in Ketchum, learning to be a bike technician.
Dupuis and her family lived in the Wood River Valley when she was born, then moved to Eagle when she was 3 years old and lived there until she was 12, then returned to the Wood River Valley.
"It was nice living in Eagle because there was a lot to do," Dupuis said. "I also love living here in the Valley because there are so many opportunities for sports and the arts."
While mountain biking is a favorite, Dupuis excels at many things, including art. She currently has a 3.8 GPA and is taking Precalculus, A.P. U.S. History, Engineering II, Environmental Science, English and A.P. Studio Art. Like mountain biking, she has been in the art club since freshman year.
"I love watercolor and chalk pastels," Dupuis said. "Everything art related is fun."
One of her favorite classes is A.P. Art because she gets to choose what she wants to focus on. Dupuis chose to concentrate on the theme of nature and people; she likes to use watercolors and pastels to draw and paint positive interactions between the two. She has also done some pottery with Boulder Mountain Clayworks in Ketchum.
Dupuis hopes to continue pursuing her love for art, post-graduation, at The Savannah College of Art and Design, a creative art-based private, nonprofit and accredited university with locations in Savannah, Ga., Atlanta, Ga., Lacoste, France, and Hong Kong.
"I learned about SCAD when a speaker traveled to Wood River High School," Dupuis said. "Another thing I like about them is they make it easy to transfer schools within their system."
Dupuis hopes to travel to one of the international schools in the SCAD campus system at some point in her college career. And for a career, Dupuis is interested in animation, design, science, architecture and engineering.
"Maybe there is a way to mix all of those things together," Dupuis said.
Each week, the Weekly Sun will be profiling a local high-school student. If you know someone you'd like to see featured, e-mail emilee.struss@gmail.com.