Return to Headlines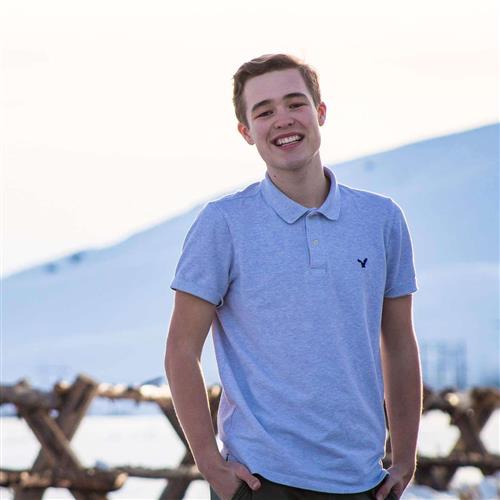 Traducción al español
Calvin Geissler
Focused on the fast and furious future
By Emilee Mae Struss for The Weekly Sun
Wood River High School junior Calvin Geissler is a young entrepreneur. He was born and raised in the Wood River Valley and grew up watching his father as a mechanic. When one customer asked for car detailing, Geissler took on the project himself.
"After that one vehicle, I realized I could make pretty good money if I made this a business," Geissler said.
Geissler started that business when he was in eighth grade and it continues to this day. He enjoys the time it takes—around five hours—to complete one vehicle, because it allows him time to enjoy his favorite music. Geissler estimates that he has detailed over 150 vehicles since he started this business. That's a lot of songs.
Working with cars is something Geissler hopes to continue in the future and with the future in mind. He has his sights set on semiautonomous (self-driving) vehicles, which is an expanding industry of computer-piloted cars. His ultimate dream is to become a software engineer for Tesla, a car company that specializes in electric car manufacturing.
Geissler said his favorite car that Tesla currently makes is the Model S P100D (Performance 100 Drive), which is a luxury electric car that accelerates from zero to 60 miles per hour in 2.6 seconds.
"I have two passions: cars and computers," Geissler said. "So I'm wondering what I can do to bring those together."
Beyond cars, computers and running his own business, Geissler stays involved at WRHS with many different clubs. He is president of the Key Club, which is a student-led club that encourages leadership through serving others.
He is also president of the Business Professionals of America, which is a club at WRHS that teaches students about the skills and tools used in business, such as profit-and-loss spreadsheets, interviewing for jobs, and more.
The BPA doesn't shy away from competition, and neither does Geissler. He joined BPA his freshman year and has attended competitions at the state level three times and the national level once. Geissler competed at nationals in Advanced Spreadsheet Applications and Structured Query Language—a computer language for storing and retrieving data. He plans to compete again at this year's nationals, which will take place at Disneyland in California, a place Geissler is very excited to visit.
"I've always been good with numbers," Geissler said. "And not many people choose to compete in SQL, so I think I'll have a good chance at making it to state or nationals."
Geissler enjoys life in the Valley but hopes to continue his education, post-graduation, at Princeton University in New Jersey.
"That would be like the dream school," Geissler said.
Geissler is currently enrolled in Advanced Placement Computer Science, Advanced Placement Economics, college chemistry and precalculus. He has a 3.9 GPA and continues to grow in his interest for numbers.
Geissler is a student ahead of the curve, with his mind set on futuristic ideas while also catering to the current demands of the economy. Geissler commented on a few German companies that are already releasing semiautonomous cars that have an autopilot setting with radar technology to guide cars down the road. He hopes to have a part in making such vehicles safe.
"There's always an opportunity for error because technology isn't perfect but, then again, neither are we as humans," Geissler said.
Each week, the Weekly Sun will be profiling a local high-school student. If you know someone you'd like to see featured, e-mail emilee.struss@gmail.com.