Return to Headlines
Get the Facts About Snow Days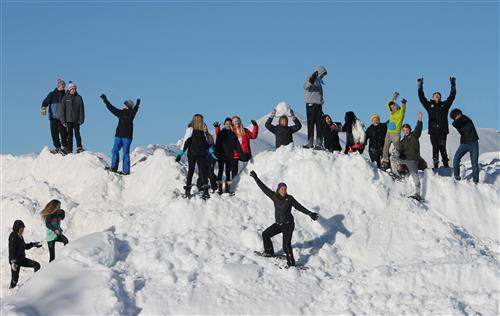 Making a decision to cancel or delay school is never easy. Regardless of the decision that is made, some will be happy and others won't. Safety for students and staff is the first priority. So how are decisions made? How do these decisions impact our funding? And how are people notified?
How is the decision made to delay or cancel school in the event of weather?
When there is a chance of snow, the Superintendent, Director of Buildings and Grounds and Supervisor of Transportation begin driving roads between 3:00-4:30 a.m. They drive from Carey to north of Ketchum. They look at weather data on NOAA. The Director of Buildings and Grounds talks with each of the road crews when necessary (State, County, Ketchum, Hailey, and Bellevue) to get their assessment of the roads. We then make a decision based on all of this information about school. Safety is always our first consideration.
How many "snow days" are built into the calendar?
The state requires a different number of instructional hours for various grade levels. Wood River High School has the tightest schedule with only 10.95 extra hours (lunch and passing periods do not count) in their calendar; those hours and more have been used.
How does the decision impact school funding?
If schools are open and students don't come, it is a negative impact to the funding received by the State of Idaho.
If schools are closed, attendance is not impacted, which saves the district money.
What if I don't feel it's safe to send my child to school?
If you do not feel safe driving, please do not drive. The district provides bus transportation if that is helpful.
The district takes the decision so seriously that the Superintendent and staff members drive the roads before making a decision as a team. Student safety is the goal.
If a parent decides to keep their child home, what is the student attendance policy?
All students are required to be in attendance at school at least ninety (90) percent of the time for each formal grading period. Activity absences, which fall within policy guidelines, will not be counted in the percentage of attendance. Specific building procedures are outlined in the respective procedures and student handbooks.