Return to Headlines
WRMS Student Leaders Challenged to be Heroes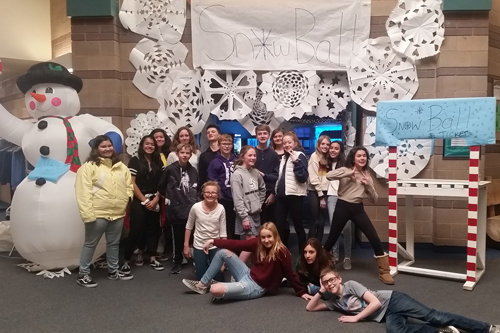 Traducción al español
"Every hero has a story. What will your story be? Will you be a hero? Will you be a villain? Now is your chance to begin your story, and begin shaping your destiny." This was the challenge that WRMS Leadership students were given last November as they began a unit on leadership development focusing on leadership skills and the character traits that heroes have versus those of a villain.
Students moved forward from this challenge to create a superhero identity based on their own strengths, weaknesses, and personal mission. Once completed, students joined efforts with other like-minded heroes--those with similar mission statements. These teams brainstormed local, national, and global problems related to their mission that they wanted to impact. From there, students learned about the role of facts, emotions, expertise, pictures, and stories in trying to persuade others to action. Each team created a presentation trying to ethically use persuasive techniques to convince the rest of the class to join them in fighting for their cause. In the end, students in each of the 6th, 7th, and 8th grade classes chose similar and different missions to fight for, and each grade created unique projects to impact their school, our community, and kids around the world.
The Wood River Middle School 6th Grade Leadership Class voted to help kids and families have happier holidays, more opportunities, and to stand against drugs and bullying. They had a successful food and toy drive which they held at the Atkinson´s stores in Hailey and Ketchum. They came with the idea that they could help out the community. They collected 641 pounds of food which was delivered to the Hunger Coalition. They also raised $748 to go to an organization called United Through Sport that gives sports and art equipment to kids who can't afford them. The students collected an estimated 40 toys and $214 that were donated to the Sun Valley Realtors Association for their Holiday Baskets program to use for 2019's holiday season. Finally, they requested a school assembly regarding drugs be organized by WRMS administrators and created fliers to post around WRMS encouraging students to take action against bullying behaviors, and to get involved with helping others and their communities instead of using drugs. Overall, students met their collective goals for this project and were proud of their work.
WRMS 7th graders chose to encourage more WRMS students to recycle and to inform WRMS students of the negative impacts of bullying in order to reduce the percentage of students bullied at WRMS. Students improved recycling bins at WRMS by adding dividers so that students and teachers can more easily sort recyclables by their type. Additionally, recycling bins to collect glass and plastic bags were added to four classrooms throughout the school. Large bins to recycle plastic bottles and aluminum cans were also added to the lunch room so students recycle there more often than throwing these items away.
To combat bullying, several students worked together to create an persuasive presentation to inform students of the negative impacts of bullying in hopes that students will, as a result of learning more about bullying, choose not to do it. The students learned about the persuasive utility of logos, ethos, and pathos, and how to use these ethically to persuade others. Following this, students designed and worked in pairs to deliver the presentation to all morning elective classes that could participate in hearing the presentation. A Dual Immersion student in class worked with 8th grade Dual Immersion leadership students to translate the presentation into Spanish and deliver it to the middle and high school students in Mrs. Ward's Beginning ESL classes. In all, over half of WRMS heard the presentation, and many were moved by it. Not only were the leadership students highly impacted by this presentation, but most at WRMS were. For many students in leadership, this presentation taught them the most about good communication and leadership. Additionally, the project was extremely unique and nothing like it has been done by leadership students since the class was taken over in 2012 by current teacher, Melanie Schrader.
Finally, 8th graders assisted in combating bullying at WRMS and had a separate project to help the hungry in our valley while creating bonding experiences for WRMS students. 8th graders also helped in delivering the Anti-Bullying presentation to their fellow students. Beyond this, they also sponsored a "Kindness Counts" week in which students were encouraged to cease any bullying, especially cyber bullying for at least one day, to wear blue to stand up for kindness, decorate kindness rocks, apologize to someone they feel they may have offended, and to spread compliments to others in the school. Finally, they sponsored a "Snow Ball" dance to raise money for the Hunger Coalition and to provide WRMS students an opportunity to connect and bond with each other.