Return to Headlines
LETTER FROM THE SUPERINTENDENT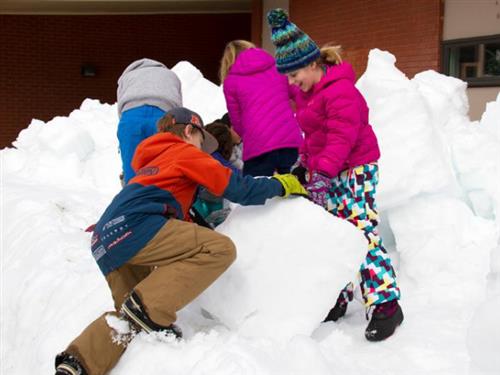 December 2019
Dear Blaine County Neighbors,
We live in snow country! I love the cold air and the beautiful landscapes of winter. I even love the quiet early-morning drives after a snowstorm to determine if we can safely hold school.
When we experience heavy snow or very cold weather, the key question is whether we can get students to school safely on the buses. On these mornings, there are at least three administrators (I am one of them) driving the roads from Carey to Ketchum to see if the plowing crews are keeping pace with the snowfall. Others on our team are gathering advice from county and city road crews. Can our buses navigate the snowy or icy roads? Will school sidewalks and parking lots be clear of snow in time for the arrival of students and staff? (Our Buildings and Grounds crews and custodians are also early risers, working diligently to clear sidewalks around our schools.)
In addition to doing these pre-dawn road assessments, we are constantly checking what the National Oceanic and Atmospheric Administration (NOAA) has to say about wind chill and additional snow we can expect as we move through the school day.
While we need to ensure that the buses can get students safely to school, we must also consider the safety of our students as they stand outside in the cold, waiting for the bus. If wind chill is significant, frostbite can occur within a very short period of time.
Decisions about school closures must be made by 5:30 a.m. at the latest so we can share information with staff and parents and avoid having buses on the roads unnecessarily. We inform the community of school closures and/or late starts as early as possible through Skylert, a system that sends alerts via text, phone and email, as well as through our district website, social media, and local media.
If bad weather continues throughout the day, we consider canceling after-school activities. However, we seldom cancel school once classes are already in session, as sending young students home to empty and possibly locked houses is too great a risk.
On snowy mornings when we decide to keep our schools open, we often receive emails and calls from students or parents saying it is unsafe to drive. If you are uncomfortable driving to school that day, you have the option of staying home or taking a bus. In addition, school secretaries and the District Office receive a host of calls on these mornings asking if school will be open or closed. We are always happy to help families and students get the information they need.
On rare occasions, some people take out their frustration about school closures and disrupted routines by communicating rudely with District staff or posting disrespectful comments on social media. Please remember that each BCSD staff member is a caring individual doing their very best every day to serve our students and ensure their safety. Whether you call our offices or post on the District's Facebook page, please be kind and keep it civil.
Any superintendent will tell you that there is no easy answer on whether to hold school or close school on a snowy day. There are many factors to consider, and the weather can vary greatly from Carey to Ketchum. However, the BCSD team who are out on the roads and monitoring NOAA will always make the best-informed decision possible to keep our students safe.
We are thankful for the incredible work done by county and city road crews to help us safely navigate our snowy days. We also appreciate the extra precautions our families take in getting their children to school in bad weather. And, more than anything, we value the incredible work our staff do each day to serve our students and families.
With gratitude,
GwenCarol Holmes