Return to Headlines
PARENT TEACHER CONFERENCES: TIPS FOR PARENTS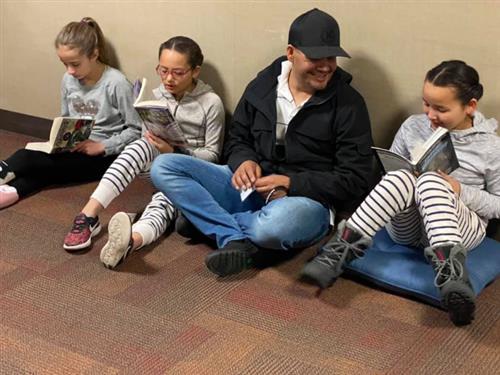 Dear Parents,
This week is Parent-Teacher conferences for seven of the eight BCSD schools. We look forward to meeting with you about your child's academic and social/emotional growth. It is a privilege to partner with you in educating your child.
It is also helpful for us to hear how your child feels about their school experience. What excites them about school, and what concerns them about school? As you and your child's teacher(s) share information about your child, you both become better equipped to help your child grow into a future adult who will strengthen our community and our country with their intelligence, compassion, and service to others.
However, right now you are in the thick of raising your child, and it is sometimes hard to get much out of them when they get home from school. I remember asking my own kids, "How was your day?" A common answer would be, "Fine," and then they were off to play.
I found these questions to ask your kids after school on the Horace Mann League's HML Post February 25 newsletter. Try them out and see if you can get more conversation going with your child:
What made you smile today?
Can you tell me an example of kindness you saw today?
What did you do that was creative today?
Who did you sit with at lunch today?
Was anyone in your class gone today?
What did you learn today that you didn't know yesterday?
Did you like your lunch?
What was the hardest rule to follow today?
If you could change one thing about your day, what would it be?
What made your teacher smile?
What made her frown?
If you could switch seats with anyone in class today, who would it be? Why?
What kind of person were you today?
Have fun talking with your child. We'll see you at conferences.
With gratitude,
GwenCarol
---
Estimados padres de familia:
Esta es la semana para las reuniones o conferencias de padres y maestros, para siete de las ocho escuelas del BCSD. Esperamos tener la satisfacción de reunirnos con usted con respecto al crecimiento académico y socioemocional de su hijo/a. Es un privilegio trabajar en colaboración con usted para educar a su hijo/a.
Es también muy útil para nosotros escuchar cómo se siente su hijo acerca de su experiencia escolar. ¿Qué le entusiasma de la escuela, y qué le preocupa de la escuela? A medida que usted y el maestro (o maestros) compartan información sobre su hijo, ambos estarán mejor equipados para ayudarlo a convertirse en un futuro adulto quien fortalecerá a nuestra comunidad y nuestro país con su inteligencia, compasión y servicio para los demás.
Sin embargo, usted está ahora justo en el momento crítico de la crianza de su hijo, y a veces es difícil lograr que nos platiquen de sus cosas cuando llegan a casa de la escuela. Recuerdo haberles preguntado a mis propios hijos: "¿cómo estuvo tu día?" La respuesta común sería: "bien", para luego irse a jugar.
En el boletín informativo HML Post de la Horace Mann League del 25 de febrero encontré estas preguntas que usted puede hacerles a sus hijos después de la escuela. Pruebe y vea si puede lograr obtener una conversación más larga con su hijo:
¿Hay algo que te haya hecho reír hoy?
¿Podrías contarme de algún gesto amable que hayas visto hoy?
¿Hiciste algo creativo hoy?
¿Con quién te sentaste hoy a la hora del almuerzo?
¿Faltó alguien a clases hoy?
¿Aprendiste alguna cosa hoy que no sabías ayer?
¿Te gustó lo que comiste en el almuerzo?
¿Cuál fue la regla más difícil que tuviste que obedecer hoy?
Si pudieras cambiar una cosa acerca de cómo estuvo tu día, ¿qué sería?
¿Hay algo que haya hecho sonreír a tu maestro/a?
¿Pasó algo que le haya hecho poner una cara seria?
Si hubieras podido cambiar de asiento con alguien en clase hoy, ¿Con quién hubiera sido? ¿Por qué?
¿Qué tipo de persona fuiste hoy?
Espero que pase un momento agradable conversando con su hijo/a. Nos vemos en las reuniones.
Con gratitud,
GwenCarol