Return to Headlines
Blaine County School District Looks At Achievement Data
The Blaine County School District is using multiple data points to confirm progress with academic achievement and identify areas for growth among all students. While all groups of students perform above state average in most areas, data consistently shows an achievement gap. A detailed report will be available in October on both the website and during the Board of Trustees meeting on October 11.

Multiple data points help confirm the district's overall progress with achievement. In Math the district uses the Idaho Standards Achievement Test (ISAT) and the STAR tests. In English Language Arts, the district uses ISAT, Idaho Reading Indicator (IRI), STAR and ACCESS tests. The district is also monitoring growth in the number of students participating and succeeding in advanced opportunities such as Honors, Advanced Placement and Dual Credit courses.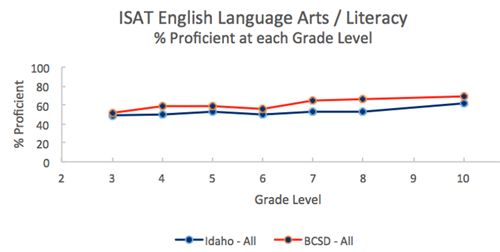 Overall assessment of student achievement in reading shows slight growth. Student achievement in math is stronger at the secondary level than the elementary level in comparison to the state. In response to the sixth grade data, teachers have revised the curriculum. Although Blaine County School District students perform above the state in most areas, the achievement gap among Blaine County students is larger than the state. Superintendent Dr. GwenCarol Holmes stated, "The achievement gap exists between students who have disabilities, are learning English as a second language, and come from poverty, which is 42% of our student population. We are proud of the fact that these students perform above state average, but it is not acceptable that they don't perform as well as their peers."

During the October 11 Board of Trustees meeting, a presentation and report will show the multiple data points and what is being done to address the achievement gap. Assessment Coordinator Marcia Grabow said, "The data was shared with educators on Data Day Friday, September 13. After a year using the new STAR Reading and STAR Math assessments, we now understand that there is a strong relationship between our students' STAR scores and ISAT scores. This data allows us to monitor growth throughout the year and plan instruction accordingly."

Information is available to the public at www.blaineschools.org under the Educate section of the Blaine County School District Strategic Plan, available at the bottom of the website. Parents may contact Grabow at 578-5411 or mgrabow@blaineschools.org if they have any questions.