Return to Headlines
"The Art of Yellowstone Science" Inspires and Engages Students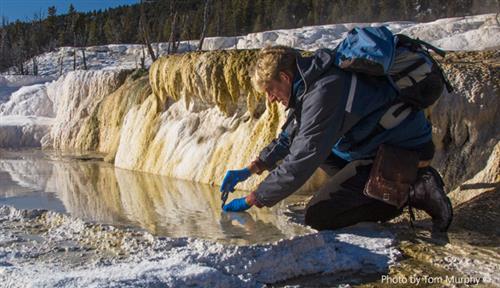 Students at Wood River High School were inspired and engaged by the questions, "What were the origins of life on Earth, and is there life on other planets?" during a recent presentation from Dr. Bruce Fouke, a geobiologist. Dr. Fouke uses his research at Mammoth Hot Spring, Yellowstone, as a "window on the universe."

Dr. Fouke is a professor in Geology and Microbiology at the University of Illinois Urbana-Champaign. In addition to his research projects in Yellowstone, Dr. Fouke explained his work with the recently launched NASA OSIRIS-REX mission (a 7-year journey to collect soil from an asteroid and return the sample to Earth) and the Tree of Life, an evidence-based model of the evolutionary relationships among all living things going back 4 billion years. Students were also offered a free copy of Dr. Fouke's new book, The Art of Yellowstone Science: Mammoth Hot Springs as a Window on the Universe.

"This was a rare opportunity for students to meet and interact with a well respected scientist who does amazing research to explore and understand some of life's biggest questions," said Biology teacher Dan Vanden Heuvel. "Many students didn't realize how being a scientist could allow them to travel, work with people from many countries, and change the way we think about the world. Dr. Fouke did an excellent job of engaging students and inspiring them to pursue science as a career."