Return to Headlines
Superintendent Asks for Feedback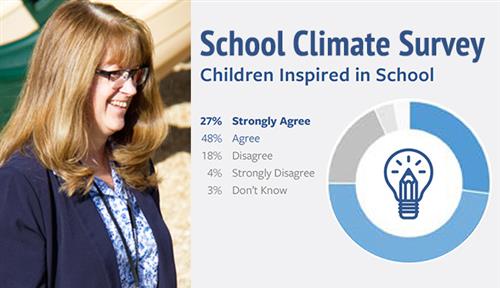 Dear BCSD Families,
At Blaine County School District, we are committed to offering every child an education that will unlock the future they dream about. To do that, we must continually evaluate our services and schools.
We're asking for your feedback on academic preparation, student support, school leadership, parent engagement, safety and behavior, school operations, and school and district events. How will we use your feedback? Some of the results will be part of our measurements for our Strategic Plan. Other results are used by schools and departments to reflect upon and improve our services.
If we have your current email address on file, you will receive a personal survey invitation and link. If not, you can participate by clicking on the link on our website. You may also pick up a paper survey at your school. The survey is available in English and Spanish. You have until Tuesday, Nov. 22, to share your feedback.
We've partnered again with independent research firm K12 Insight to administer the survey and compile the results. All responses are strictly confidential — no matter how you access the survey. No one in our district will know who participates or be able to connect participants to their answers. K12 Insight's final reports will share only overall findings and themes, not individual comments or responses.
We believe that BCSD can be an exceptional place to learn and grow, but it will take open collaboration and strong relationships to achieve our goals. By sharing your candid feedback, you'll help us ensure we make the right decisions for our schools — and your children.
Sincerely,
GwenCarol Holmes, Ed.D.
Superintendent
Take the survey here.
---
Estimadas familias del DECB,
En el Distrito Escolar del Condado de Blaine, estamos comprometidos a ofrecerle a cada niño la educación que le dará acceso al futuro que sueña. Para lograrlo, debemos evaluar continuamente nuestros servicios y escuelas.
Estamos pidiendo su opinión acerca de la preparación académica, apoyo a los estudiantes, liderazgo escolar, participación de los padres, seguridad y comportamiento, funcionamiento de las escuelas así como también acerca de los eventos escolares y del distrito. ¿Cómo se utilizará su contribución? Algunos de los resultados formarán parte de las mediciones para evaluar nuestro Plan Estratégico. Otros resultados serán utilizados por las escuelas y departamentos para análisis y mejoras en nuestros servicios.
La encuesta está disponible en inglés y español. Usted tiene hasta el martes, 22 de noviembre, para compartir su opinión.
Una vez más, trabajaremos en colaboración con la empresa independiente de investigación y comunicaciones K12 Insight para realizar la encuesta y reunir los resultados. Todas las respuestas son estrictamente confidenciales - sin importar cómo tuvo acceso a la encuesta. Nadie en nuestro distrito sabrá quién participa o tendrá la capacidad de relacionar a los participantes y sus respuestas. El informe final de K12 Insight compartirá únicamente los resultados generales y los diferentes temas, no los comentarios individuales o las respuestas.
Creemos que el DECB puede ser un lugar excepcional para aprender y crecer, pero se necesitará una colaboración estrecha y relaciones sólidas para lograr nuestros objetivos. Al compartir su opinión sincera, nos ayudará a asegurar la toma de decisiones correctas para nuestras escuelas - y para sus hijos.
Sinceramente,
Dra. en Educ. GwenCarol Holmes
Superintendente