Return to Headlines
Mountain Biking Inspires Students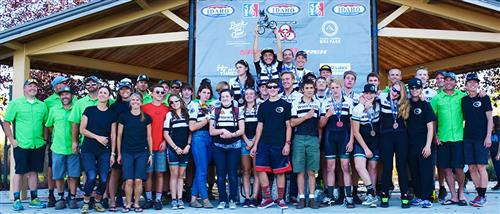 The first goal of Blaine County School District's Strategic Plan is to inspire every student through meaningful opportunities. The Wood River High School Mountain Bike team is one of many opportunities that connects students to school and their passions. During the Board of Trustees meeting Dr. GwenCarol Holmes said, "We would like to thank each of you for seeking your passion and representing Wood River in such an inspiring way."

The team currently consists of 38 students and 24 volunteer coaches, organized by Wood River High School teacher Joel Zellers and Cameron Lloyd, as well as WRHS teacher James Foster. It is an all-inclusive sport that is one of many clubs at Wood River High School. The team is focused on: riding for life, friendship, and being stewards of our environment.
The team is a part of the Interscholastic Cycling Association which trains and certifies the volunteer coaches. It is sponsored by over 18 community sponsors in the Wood River Valley. Sponsors include,
Limelight Hotel
Windy City Signs
SV Board of Realtors
Sun Valley Co
Club Ride
WRBC Wood River Bike Coalition
Bike Shops
Sturtevants
Elephant's Perch
Galena Lodge
Power House
Lizzy's
Morgan's Fine Finishes
Liv Jensen
Pioneer Title
Yellow Fin
Architectural Coatings
Mountain West Bank
John Dean
Elise DeKlotz
This year the team competed in four state races and against 23 other schools. Based on overall points the Wood River High School Mountain Bike team are the Idaho State Champions and club member Anja Jensen is the Varsity Girls Idaho State Champion!
During the Board of Trustees meeting Dr. GwenCarol Holmes said, "We would like to thank each of you for seeking your passion and representing Wood River in such an inspiring way."