Return to Headlines
BCSD Graduation Rate Increases For the Third Consecutive Year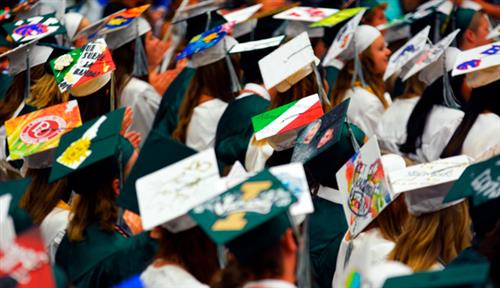 The State Department of Education announced the four year cohort graduation rates for all districts and high schools in Idaho. The Blaine County School District graduation rate increased for the third consecutive year, from 84% in 2014 to 89% in 2016. The state graduation rate is 79.5%.
Wood River High School graduation rate is 92%. Carey High School is 100%. Silver Creek High School is 50%.
At Wood River High School, graduation rates among Hispanic students went from 79.6% to 90.6% and graduation rates among Economically Disadvantaged students went from 77% to 89% in the last two years.
Superintendent Dr. GwenCarol Holmes stated, "The increased graduation rate is an achievement that is accomplished student by student. This means that our staff have identified each student by name and helped that individual student reach graduation. Kudos to our staff for giving so many more students in Blaine County the keys to unlock the doors of opportunity for their future."
Graduation rates are a measurement of Strategic Plan Goal Two: All students will be engaged actively in our learning community through relevant and real-life experiences.