Return to Headlines
Thank You to Our Community and Staff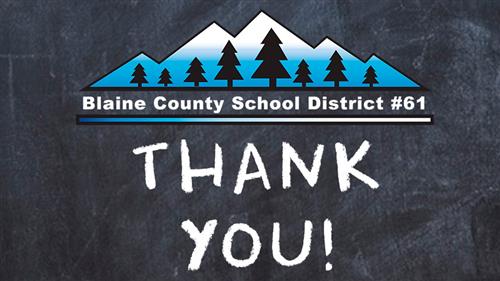 Dear Blaine County Community Stakeholders,
On behalf of the Blaine County School District, we would like to thank the community for your incredible support as we have worked together the last four years to bring district spending in line with District revenues. The audit of BCSD finances for the last school year indicates that we have stopped spending reserves to a precariously low level. More importantly, we have changed the district pattern of outspending revenue which was leading toward insolvency by 2015-16.
Due to incredible hard work by staff and the patience and understanding of our community, we avoided insolvency and we are returning to a position of fiscal health. The Board of Trustees made some hard decisions including reducing both resources and staffing in order to focus finances on students and classrooms. None of us agree with all of the reductions that were made and given a choice would not have made them. We have asked staff to be flexible and move to other positions and also moved resources from one grade level to another as enrollments have changed over time rather than just adding more. The Board worked hard to maintain the number of overall teachers and academic programs. We have worked to realign the budget while protecting the very core of the district: educating our children over and above the state requirements.
We know that expenses will continue to increase as district enrollment continues to slowly increase and cost of goods and services will also increase. We are committed to maintaining the cautious and reserved spending that we have implemented. We will continue to look carefully at all of our spending, especially expenses outside of the classroom, to find additional efficiencies. The flexibility provided by the community with the approval of the Supplemental Levy (while reducing the Plant Facilities Levy) is of enormous assistance in maintaining a tight but balanced budget.
We are extremely grateful for the support of our staff and community. Together we have made a difference in the spending patterns of the district and preserved our ability to continue to provide an outstanding academic program to our children that Inspires, Engages, Educates, and Empower every student.
Thank you Blaine County!
With gratitude,
GwenCarol Holmes, Superintendent
Bryan Fletcher, Business Manager