Return to Headlines
Seven Ways to Support Bellevue Elementary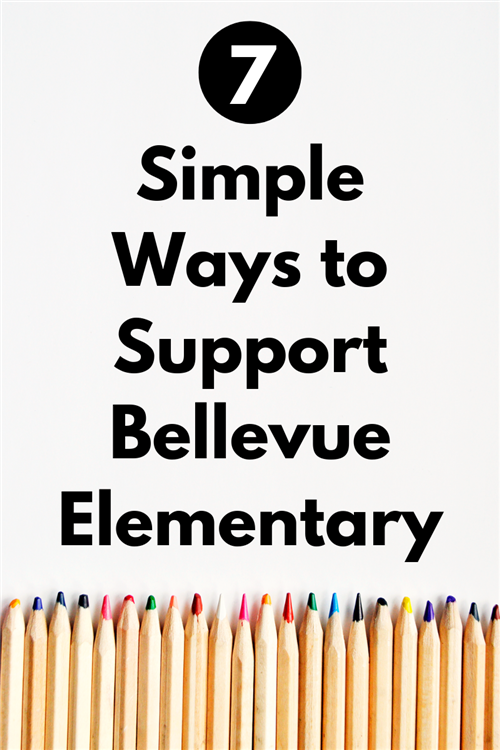 Have you wanted to give back to Bellevue Elementary, but not sure how? It is simple! Listed below are 7 simple ways you can give back to Bellevue Elementary to help support our amazing staff and our awesome students.
1. Join the PTA
The PTA (Parent Teacher Association) is a nationwide organization with state and local affiliates throughout the country. The PTA is a group of dedicated parents and teachers working together to provide resources and programs to all families.
Shrinking budgets. Increasing class sizes. The challenges of delivering quality education are daunting, but we can make a difference when we work together to support our staff and students.
Interested in learning more about the PTA or joining? Please fill out this form, HERE, and our PTA will contact you.
2. Bring Teacher Treats
We have amazing teachers and staff here at Bellevue Elementary. Every month the PTA shows our appreciation for them by bringing in delicious treats for our staff to enjoy. The staff loves teacher treat day! Our next Teacher Treat day is Wednesday, Spetember 11th. Click HERE, to sign-up to bring in a treat.
3. Volunteer
There are so many ways you can volunteer at Bellevue Elementary. You can sign-up to volunteer in a classroom, help with an event, or take a few minutes to make copies for a teacher.
Volunteers are always needed and very much appreciated. Even five minutes of your time can make a difference. If you'd like more information or would like to sign-up to volunteer, please fill out this form, HERE.
4. Share Your Talents
Do you have a hobby or interest that you would love to share with our students? Mountain biking, baking, volleyball, drama, gardening, crafts, no hobby or talent is too small.
Bellevue Elementary is trying to create some after-school programs for our students. We would love to hear what you could share. We know that everyone is busy. We are flexible when it comes to when and how often you would be able to volunteer.
If you have a talent or hobby that you would like to share with our bears, please fill out this form, HERE.
5. Box Tops for Education
Have you heard of Box Tops? For over 20 years, Box Tops for Education has given families an easy way to earn cash for their school, with products they already buy.
You may have seen Box Tops on various product packaging at the grocery store. Did you know that if you cut those box tops out and send them with your child to school we get money!?!
This year Box Tops for Education has decided to go digital. You can still find Box Tops to cut from product packaging, but now there is an even easier way to collect Box Tops.
You can now download the Box Tops for Education app and then simply scan your receipts. The app will scan the items on your receipt and then add the Box Tops to your account. You will be able to see how much you earned for your school every time you scan.
To read more about Box Tops for Education, and for information on how to download the app, click HERE.
6. Amazon Smile
Last, but not least...how many of you purchase items from Amazon? Did you know that Amazon has a give-back program called Amazon Smile?
The Amazon Smile Foundation will donate 0.5% of the purchase price from your eligible smile.amazon.com purchases. Tens of millions of products are eligible for donations.
To get started, simply visit smile.amazon.com. Then choose the charity you would like to support. Our Bellevue PTA has set-up an Amazon Smile account. Just search for "Bellevue Elementary PTA" and make sure it is for Bellevue, ID.
Once you have it set-up every time you purchase from Amazon (make sure you go to smile.amazon.com) we will receive 0.5% from every eligible purchase. Yes, the 0.5% doesn't seem like very much, but every little bit adds up.
7. Fundraisers
Bellevue Elementary has a few fundraisers every year. These fundraisers are usually put on by the Bellevue Elementary PTA. The money earned during these fundraisers help pay for field trips, school supplies, yearbooks, and more.
We just started our first fundraiser for the year, the Charleston Wrap fundraiser! This fundraiser has been a success the last few years, and we're hoping that it is even more successful this year.
To make our Charleston Wrap fundraiser a success we are asking you to reach out to your friends and family and encourage them to shop for products in our fundraising catalog. The proceeds of every purchase will make a BIG difference in our fundraising efforts this year. There's a lot of great stuff in this year's catalog; with over 1,500 great products you can be confident that everyone you know will find something they like.
If you'd like to register your student online you can do so by clicking here . Our School ID [z- 12555]. Once you are registered you can send emails, post on social media, and even send text messages to family and friends.
Another fundraiser that we are planning on is a Bellevue Elementary Cookbook. If you are interested in helping with the cookbook please fill out the PTA form and let us know.
That's it! Those are seven simple ways you can give back to Bellevue Elementary. Do you have other ideas or programs that we can add to the list?