Return to Headlines
Silver Creek High School Recommended for Accreditation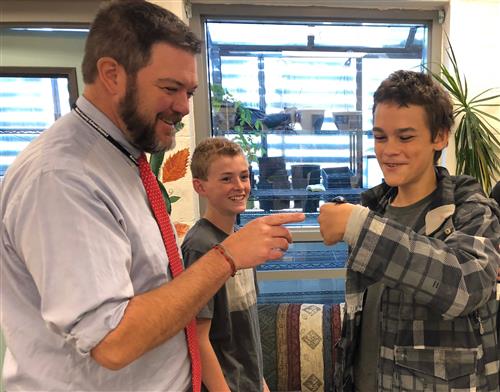 Silver Creek High School Recommended for Accreditation: Outside Evaluation Part of Focus on Raising Student Achievement
Blaine County School District announced that Silver Creek High School (SCHS) was recommended for continued accreditation by AdvancED. SCHS will be recommended for accreditation when action is taken at the AdvancED Global Commission meeting. SCHS has been accredited since 2013.
The mission of Silver Creek High School is to use internships and rigorous, interest-based projects to immerse students in work they are passionate about so that they develop skills, habits, and knowledge to succeed in higher education, overcome obstacles to their well-being, and contribute positively to their communities. This mission is implemented one student at a time within a network of students, staff, advisers, family, and community. SCHS serves 50-60 students in grades 9-12.
According to AdvancED, Silver Creek High School will join a network of over 34,000 schools and systems in more than 70 countries that are committed to continuous improvement through accreditation.
AdvancED provides nationally-recognized accreditation, the purpose of which is continuous school improvement focused on increasing student performance. To earn accreditation, schools must meet AdvancED's high standards, be evaluated by a team of professionals from outside the school and implement a continuous process of school improvement. Accreditation is granted on a five-year term.
"Accreditation demonstrates to our students, parents and community that we are focused on raising student achievement, providing a safe and enriching learning environment, and maintaining an efficient and effective operation staffed by highly qualified educators," stated Silver Creek High School Principal Mike Glenn.
AdvancED accreditation is recognized across state lines, which not only eases the transfer process as students move from accredited school to accredited school but also assures parents that the school is meeting nationally accepted standards for quality and successful professional practice.
Dr. Mark Elgart, president and CEO of AdvancED, stated, "AdvancED Accreditation is a rigorous process that focuses the entire school on the primary goal of creating lifelong learners. Silver Creek High School is to be commended for engaging in this process and demonstrating a commitment to continuous improvement."
Parents and interested community members can learn more about accreditation at www.advanc-ed.org.
About AdvancED:
AdvancED is a non-profit, non-partisan organization that conducts rigorous, on-site school external engagement reviews of Pre-K through 12 schools and school systems to help educators and their communities ensure that all learners realize their full potential. Membership in the AdvancED Improvement Network affords access to tools and services to help institutions on their journey of continuous improvement. While our expertise is grounded in more than a hundred years of work in accreditation, AdvancED works tirelessly to improve schools through forward thinking thought leadership and advocacy, continuous research and development, direct supports and services, and internationally recognized distinctions of education quality. AdvancED serves as a trusted partner to over 36,000 schools and school systems—employing more than four million educators and enrolling more than 20 million students—across the United States and 71 other nations. AdvancED is the parent organization of the North Central Association Commission on Accreditation and School Improvement (NCA CASI), Northwest Accreditation Commission (NWAC) and the Southern Association of Colleges and Schools Council on Accreditation and School Improvement (SACS CASI).