Return to Headlines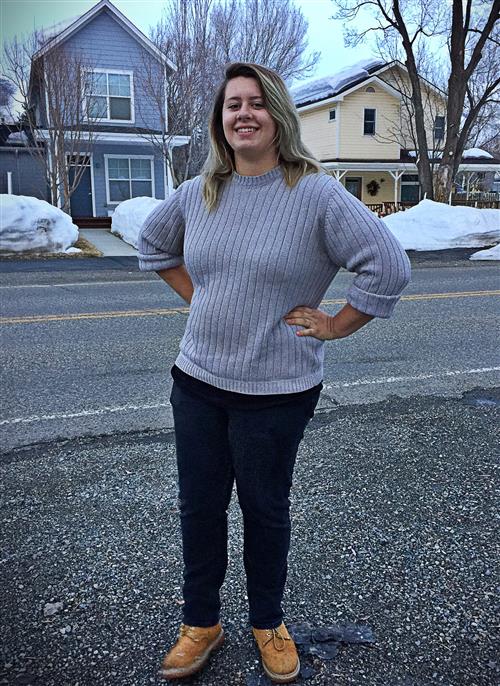 Traducción al español
Sierra (Matt) Stern
Big dreams, tiny house
By Emilee Mae Struss for The Weekly Sun
You may have already heard about this week's feature for Student Spotlight. She has created waves in the Wood River Valley about her senior project, a requirement for graduation. Her name is Sierra (Matt) Stern and she is building a tiny house.
"It's a lot of work," Stern said. "I do the fundraising and publicity for it, and am receiving a lot of help with the construction."
Jolyon Sawrey, of Vital ink Architecture, and Levi Sali, of L.W. Builders LLC, are two professionals helping Stern on the project. She also says that the community in general has encouraged her a great deal.
Stern is a senior this year at Silver Creek High School and plans to live in her tiny house in the future, although, for next year, she isn't quite sure if she'll use the tiny house. Stern plans to attend Boise State University where she hopes to pursue a degree in film and television.
"The dream," Stern said, "is to write and direct movies and TV shows."
She says it's less about the fame and glamour and more about her interest in evoking emotion through storytelling.
"I think it's such a powerful medium," Stern said. "I want to be able to tell stories and make the viewers feel the emotions of whatever is happening in the story."
Stern plays with creativity in many different art forms, such as painting, drawing and ceramics.
"I love anything that I can sculpt, mold or put on a canvas," Stern said. "And just creating things, in general."
She also loves cooking. Stern started cooking for her family when she was seven years old and appreciates the creativity in mixing different complementary flavors.
"The Wood River Valley is a really great place, with access to fresh produce, good meats and dairy," Stern said.
Stern has participated in several cooking classes and has worked as a pastry chef, but this year she is getting a closer look at produce. Stern recently started working at Natural Grocers in Hailey.
From ceramics to building a tiny house, Stern says she takes pleasure in the process of creativity. She also holds value in honoring those around her, including her mother, who passed away four years ago.
"My mother was a really wonderful person and supported me in everything," Stern said. "I try and honor her memory by being kind and courteous to others."
Stern has a gofundme account to raise money for her tiny house, which can be found at gofundme.com/building-kintsugi-tiny-home.
Each week, the Weekly Sun will be profiling a local high-school student. If you know someone you'd like to see featured, e-mail emilee.struss@gmail.com.