Return to Headlines
A special presentation to Mr. Jeff Cordes at the Carey basketball game 12-17-19.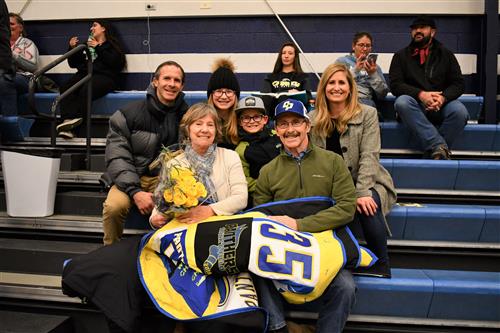 Jeff and Diane Cordes came to Blaine County in 1975 via their bicycles, and they never left. With newspaper reporting already on his resume from his time in the western Massachusetts area, and a Cornell degree in his pocket, Jeff joined the newly established Idaho Mountain Express in early 1976 as a stringer. 43 years later, Jeff has cemented the Express sports section as the premier guide for all athletics in Blaine County and as one of the top sports sections in all of Idaho; while also helping cement the Express as a whole at the forefront of the weekly newspaper industry in the Pacific Northwest.
As a reporter, Jeff has selflessly covered athletics and athletes from all walks of life and from all corners of the county, ensuring that Carey sports were covered with as much zeal as any others in the area. Jeff has covered all 15 of Carey High Schools State Championships along with numerous other state placings. Along with the exhaustive coverage, Jeff has always written with a compassionate and empathetic perspective, ensuring that the most important facts and tidbits from each story were always conveyed. The personal touch that Jeff has always been able to put on his coverage is what has made his contributions to this city and the county as a whole so unique. Regardless of the outcome of a game or event, Jeff was always able to find and highlight the positives; he was meticulous in ensuring that no story was left written without a positive spin. It was this thorough and tireless reporting that left us the most spoiled, as it was never just enough for Jeff to tell the story of a game, but to tell the stories from the game.
Ultimately, beyond the scores and teams, the playoff runs and championships, Jeff has always been about the people, about the athletes, coaches, officials, administrators, and fans. Decades later, Jeff recognizes faces and names, remembers accolades and moments, recalls successes and failures. He is the ultimate athlete's reporter. And through hard work, endless seasons, tireless nights, and thousands upon thousands of stories, he has solidified himself as a legend in Blaine County.
Carey athletics had this quilt made by Charmaine McPherson for Jeff, with game uniforms from all our sports teams. Thank you for all you have done for Carey Schools and we want you to know you are very appreciated by so many, and always welcome back. Enjoy your retirement!