Return to Headlines
Congratulations to Zoe Simon: National Merit Seminfinalist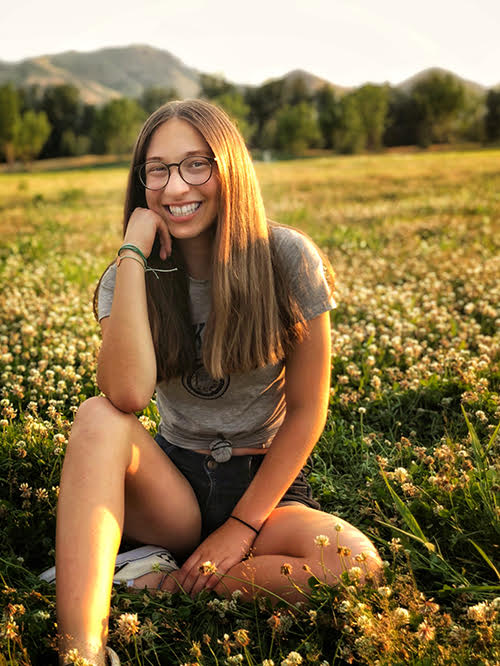 Congratulations to Zoe Simon, a semifinalist in the 2020 National Merit® Scholarship Program. Recently Zoe was interviewed by the Weekly Sun for the Student Spotlight. Read the article below and find out more about Zoe Simon and the National Merit Scholarship Program. Congratulations, Zoe!
About Zoe Simon:
By Jesse Cole for the Weekly Sun
Far from the stereotypical image of a teenager who needs to be motivated and validated by others, Zoe Simon is a 21st-century woman powered by her own steam.
A senior at Wood River High School with a 4.35 GPA, Simon's schedule reflects the high standard that she sets for herself, with a course load of A.P. Art, A.P. Literature, speech and debate, A.P. Physics II, A.P. Statistics, A.P. Government and A.P. Human Geography.
"I love math and science," Simon said. "I've always been a big fan of shapes and patterns and stuff, so even when I was four, and out hiking, I loved to look at pinecones and be, like,
'Oh, that's a Fibonacci spiral.'"
Beyond her rigorous classes, Simon also dedicates a significant amount of her time to clubs within the school district and to the greater community. As one of the co-captains of the WRHS speech and debate team, a co-founder and president of NextGen Politics—a bipartisan civic engagement group that aims to foster cross-partisan discussion—a member of Model United Nations, Business Professionals of America and the varsity tennis team, a student board member on the Student Coalition Council for the Wood River Land Trust, and a board member and head coach for Girls on the Run, Simon certainly keeps busy.
"Just the way I like it," she said. "About time management, I think you get what you put in, so I really try to prioritize the stuff that I'm passionate about, and I find that if you put your time and energy into it when you're doing it, you can be really productive with it and save some time. So I really try and work efficiently when I do stuff."
While Simon enjoys each of her activities, one of her great loves is speech and debate.
"I just think the team aspect of it is so, so awesome," Simon said. "And it really allows you to explore, especially because most of our topics are public-policy-centered, in the invented ideal, so it's really exciting getting to explore that from multiple facets, which is like the political involvement as well as like in terms of public speaking and rhetoric."
Beyond taking advantage of the opportunities and clubs available to her, Simon has also set out to make her own. This summer, she took the initiative and created her own nonprofit organization.
"It's called STEAM On," Simon said. "It provides equitable steam education through free tutoring and the provision of free learning resources to students coming from underserved backgrounds."
With so much to focus and build upon, it's full steam ahead for Simon as she continues to strive toward her goals and make them into her reality.
About the National Merit Scholarship Program:
Officials of National Merit Scholarship Corporation (NMSC) announced the names of approximately 16,000 Semifinalists in the 65th annual National Merit Scholarship Program. These academically talented high school seniors have an opportunity to continue in the competition for some 7,600 National Merit Scholarships worth more than $31 million that will be offered next spring. To be considered for a Merit Scholarship® award, Semifinalists must fulfill several requirements to advance to the Finalist level of the competition. Over 90 percent of the Semifinalists are expected to attain Finalist standing, and about half of the Finalists will win a National Merit Scholarship, earning the Merit Scholar® title. NMSC, a not-for-profit organization that operates without government assistance, was established in 1955 specifically to conduct the annual National Merit Scholarship Program. Scholarships are underwritten by NMSC with its own funds and by approximately 400 business organizations and higher education institutions that share NMSC's goals of honoring the nation's scholastic champions and encouraging the pursuit of academic excellence. Read the full press release here.