Return to Headlines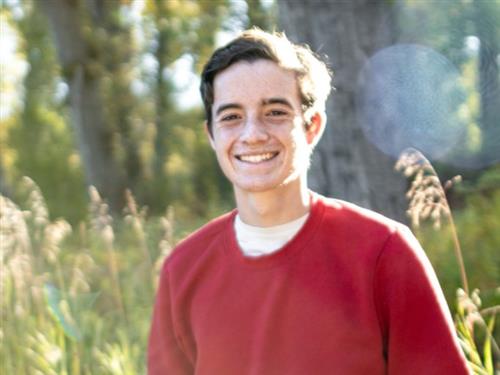 AIDAN BURCHMORE
By Eric Valentine for the Weekly Sun
Sometimes in life, less is more. Other times, more is what one should be shooting for. Wood River High School senior Aidan Burchmore seems to have a good bead on which axiom fits each situation best.
For Burchmore, in academics, it's about more. Thanks to taking a more-than-normal amount of A.P. classes—A.P. Macroeconomics, A.P. Microeconomics, A.P. Government, A.P. Literature, A.P. Physics 2, A.P. Statistics—Burchmore's grade point average is 4.27. A straight-A GPA is 4.0.
Meanwhile, Burchmore rounds out his high school career as a captain of the WRHS Speech and Debate Team as well as being an active member of Compassionate Leaders—a club under the organization of Sun Valley's Flourish Foundation, which is dedicated to promoting contemplative practices in communities to cultivate healthy bodies and minds.
"This past summer I spent a month in India with the Flourish Foundation, and the weekly meetings have been tremendously influential," Burchmore said.
In athletics, Burchmore does more than just ski casually; through all four years of high school, Burchmore skied for the Sun Valley Ski Education Foundation (SVSEF). His focus was Nordic-style skiing—a skill he says that makes him appreciate the outdoors and winter more.
"I will miss the mountains the most, especially the clarity and feeling of being grounded one gets while exploring," Burchmore says when considering what may become less a part of his life the next four years when he heads off to college.
Burchmore is still undecided about which school he will attend, but he says he is interested in studying business and engineering. His first priority?
"Finding a career in the confluence of those two fields, which has an impact on the world," Burchmore said.
And that's where less comes into play. When focusing on what impact Burchmore wants to have on the world, he says it's about reducing our negative impact on the environment.
"I would change people's reliance on single-use plastics and other resources that people use once and then throw away, further polluting the environment," Burchmore said.
Each week, the Weekly Sun will be profiling a local high-school student. If you know someone you'd like to see featured, e-mail news@theweeklysun.com. The Student Spotlight is sponsored by the Blaine County School District.