Return to Headlines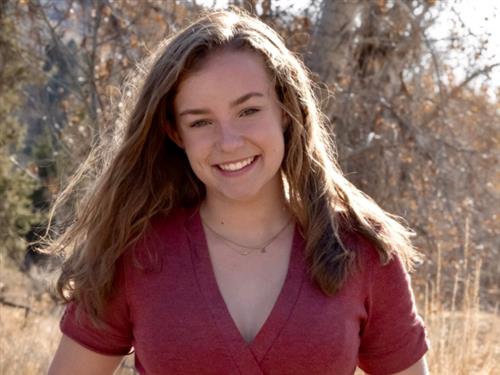 ANABELLE RUST
By Eric Valentine for The Weekly Sun
If you want to understand Anabelle Rust, you'll have to look past her 4.2-grade point average and her captaining of the Wood River High School varsity girls volleyball team. Because, although she appreciates the accomplishments of both—the volleyball team reached the state tourney for the first time in seven years—it's Rust's love for art that defines her most.
"I wake up and look forward to painting every day," Rust said. "For one hour during the school day, I get to listen to my favorite music, or talk to some wonderful people, while doing what I love with the best art teacher ever, Mrs. Ervin. I have never met better people than the ones I have met in the art room."
Rust explains that it's her Portland-based grandfather's dedication to fine arts that shines through for her.
"My large love for art comes from my grandpa," Rust said. "Every time I visit him, we always make new artwork, play around with new materials in his studio, and visit as many art museums as possible. I learned so much of my art skill through him and his own techniques."
Rust has high hopes for the road ahead. She says she will aspire to get her artwork into galleries someday. She also sees how the road to her future may be taking her out of the Valley, at least for a while. Her college of choice is Duke University, where she would study anthropology or archaeology. In the event she doesn't get accepted there, Rust says she'll likely head to California, Texas or Arizona.
"I love skiing and the Idaho snow, but I'm ready to not have to wear snow boots in October," Rust said.
The lifelong Valley resident says her favorite thing about living here is that everywhere holds childhood memories for her and its mountains hold powder that is world-class.
When Rust is not studying A.P. Calculus, A.P. Psychology, A.P. Studio Art, A.P. Macroeconomics, College English and A.P. Government and Politics, she's heavily involved in The Advocates' ETC [Every Teen has a Choice] teen intern program that deals with teaching people of all ages how to build and maintain healthy relationships, but also how to use their voices to create positive cultural change.
So what cultural change would Rust like to see in the world one day?
"I would make it so that everyone in the entire world had equal opportunity and that biases, stereotyping and prejudice didn't exist," Rust said. "I wish we could live in a world where every continent, country, city, and person could live in an environmentally balanced and developed world free of abuse and hatred."