Return to Headlines
TOGETHER WE STAND AGAINST RACISM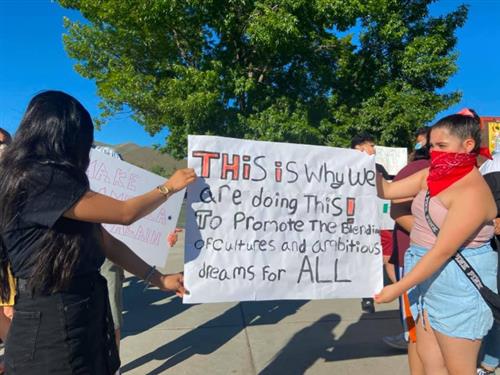 On behalf of all Blaine County School District employees and school board trustees, we want to take this opportunity to express our recognition of and support for this community's strong stand against racism in all of its ugly manifestations.
Although this district is aware of and works hard to confront racism and meet our obligation to treat all students with equal respect and dignity, we recognize that we have not always met that obligation. Racism anywhere in our society is unacceptable and particularly so in our educational institutions where today's students are acquiring the knowledge and skills they need to be tomorrow's productive citizens. While we strive to keep our schools free of racial bias of any kind, our good intentions alone are insufficient. We also know that we are judged by what we achieve, not by what we intend. We can and we must do better in dealing with this festering problem.
We need to listen, learn, and seize every opportunity to improve our system and our practices. Every complaint about racist policy, practice, procedure, or behavior in our district needs to be reported, investigated, and, where verified, corrected quickly and appropriately. We invite your comments, complaints, and reports of racist behavior by anyone in our schools, students, and teachers alike. Please be assured that we will treat your communications with complete confidentiality.
We support student efforts to call attention to and eradicate racism in our schools individually and through student groups such as Nosotros United. We will redouble efforts to help our staff recognize and confront racist behavior in our schools whenever, wherever and however it may occur, through the WRHS Equity Task Force, the BCSD Equity Advisory Committee, inclusive classrooms, school board policies and specialized training programs. The Blaine County School District is, above all, a professional learning community entrusted with the education of our nation's most precious resource: tomorrow's citizens. We will continue in earnest to inspire and enable all students to achieve at the highest possible levels without regard to race or national origin. We should and will be held accountable for any failure to meet our commitment to providing equal opportunity for all students to learn, to grow, and to achieve.
R. Keith Roark, Chairman, Board of Trustees
GwenCarol Holmes, Ed.D, Superintendent
John Pearce, Principal, Wood River High School
Mark Sauvageau, Principal, Bellevue Elementary
Mike Glenn, Principal, Silver Creek High School
Brad Henson, Principal, Alturas Elementary School
John Peck, Principal, Carey School
Tish Short, Principal, Ernest Hemingway STEAM School
Toni Boush, Principal, Hailey Elementary School
Fritz Peters, Principal, Wood River Middle School
Photo Credit: Adan Hernandez
---
En nombre de todos los empleados del Distrito Escolar del Condado de Blaine y los integrantes de la junta directiva escolar, queremos aprovechar esta oportunidad para expresar nuestro reconocimiento y apoyo a la firme posición de esta comunidad en contra del racismo en todas sus desagradables manifestaciones.
Aunque este distrito es consciente y trabaja arduamente para enfrentar el racismo y cumplir con nuestra obligación de tratar a todos los estudiantes con igual respeto y dignidad, reconocemos que no siempre hemos cumplido esa obligación. El racismo en cualquier parte de nuestra sociedad es inaceptable y de manera muy particular en nuestras instituciones educativas donde los estudiantes de hoy están adquiriendo el conocimiento y las habilidades que necesitan para ser los ciudadanos productivos del mañana. Si bien nos esforzamos por mantener nuestras escuelas libres de prejuicios raciales de cualquier tipo, nuestras buenas intenciones por sí solas son insuficientes. También sabemos que se es juzgado por lo que se logra, no por lo que pretende alcanzar. Podemos y debemos realizar un trabajo mejor al tratar este virulento problema.
Necesitamos escuchar, aprender y aprovechar cada oportunidad para mejorar nuestro sistema y nuestras prácticas. Cada queja racista en lo que se refiere a una política, práctica, procedimiento o comportamiento en nuestro distrito debe ser reportada, investigada y, de ser verificada, debe ser corregida de manera rápida y adecuada. Le invitamos a hacer llegar sus comentarios, quejas e informes sobre el comportamiento racista de cualquier persona en nuestras escuelas; estudiantes y maestros por igual. Por favor, tenga la seguridad de que trataremos con total confidencialidad lo que se nos comunique.
Apoyamos los esfuerzos de los estudiantes para atraer la atención y erradicar el racismo en nuestras escuelas individualmente y a través de grupos de estudiantes como Nostros United. Redoblaremos los esfuerzos para ayudar a nuestro personal a reconocer y confrontar el comportamiento racista en nuestras escuelas cuando sea, donde sea y como sea que ocurra, a través del Grupo de Trabajo de Equidad de WRHS, el Comité Asesor de Equidad del BCSD, salones de clase inclusivos, políticas de la junta escolar y programas de capacitación especializados. El Distrito Escolar del Condado de Blaine es, sobre todo, una comunidad profesional de aprendizaje encargada de la educación del recurso más preciado de nuestra nación: los ciudadanos del mañana. Continuaremos con toda seriedad inspirando y habilitando a todos los estudiantes para que alcancen los niveles más altos posibles sin distinción de raza u origen nacional. Nosotros debemos, y seremos responsables de cualquier falla en el cumplimiento de nuestro compromiso de proporcionar igualdad de oportunidades para que todos los estudiantes aprendan, crezcan y tengan éxito.