Return to Headlines
Student Wins State Competition, Visits White House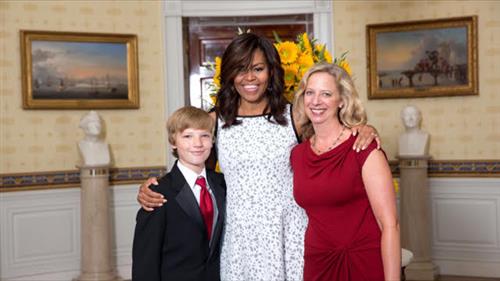 What does it take to earn an invitation to the White House? Persistence, hard work and an Idaho-inspired award-winning recipe. WRMS 7th grade student Jacob Russell placed first in the state in the national White House recipe contest, The Healthy Lunchtime Challenge.
As a result, he and his mom were flown to Washington, D.C.in July, 2016 to take part in a Kid's State Dinner, a Smithsonian tour, and a White House party and tour. He was challenged by President Obama and Michelle Obama in their speeches to return home and be an ambassador for kids and his community for good health practices. His mother, Missy Russell said, "It was such an honor and quite fun and inspiring to take part in the First Lady's initiative for better health for children and communities."
Jacob submitted a recipe for the contest when he was in 3rd grade at Hemingway Elementary. He received 2nd place. Last year he entered the competition again, fine tuning his recipe and learning from other 1st place winners. "His persistence and hard work paid off," continued Mrs. Russell. Try the recipe yourself and share it with others. Congratulations Jacob!