Return to Headlines
Watch Students Explore Human Themes in Front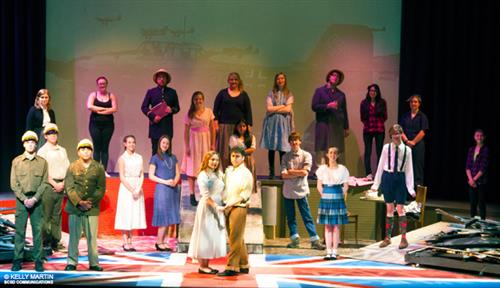 Tuesday, October 11 to Thursday, October 13, 6:00 p.m.
Friday, October 14, 5:00 p.m.
Saturday, October 15, 1:00 p.m.
Wood River Performing Arts Theater, Community Campus

Winner of the 1996 Kennedy Center/Fourth Freedom Forum Playwriting Award, Front is set in England during the Blitz. A number of struggling individuals and families come to terms with war and the horrors and tragedies it provides. This includes Judith, a proud matriarch, who works in a factory that makes bomb detonators, her missing husband, Frank, and their two children, Sheila and John, who are forced to grow up much too quickly. A number of other war-torn individuals are also profiled, each butting heads with the raging war. A poignant account of female perseverance, Front is appropriate for all mature audiences.
Listen to the WRHS Drama's interview with KECH radio here.