Return to Headlines
Students Take Risks and Build Confidence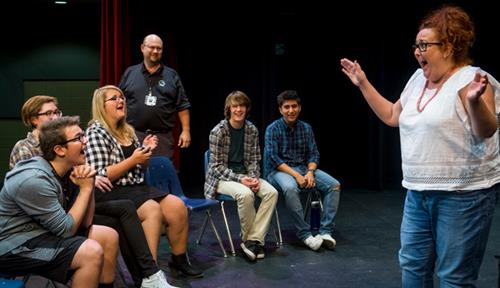 This fall the Sun Valley Center for the Arts brought award winning cabaret performer Sharron Matthews to work with students at two Blaine County schools. Matthews visited Christine Leslie's 7th grade drama class at Wood River Middle School and Karl Nordstrom's Advanced Performing Arts class at Wood River High School. The goals of this residency workshop were for students to learn about storytelling through song and the art of cabaret performance, build confidence in self-expression through performance art and have the opportunity to take risks and improvise.
Students learned and rehearsed a song with the teachers prior to Matthews arriving and then had the opportunity to perform individually and collectively with her. During the workshop students volunteered to sing acapella, receiving enthusiastic feedback from Matthews and the class. Reflection during the workshop found that students felt more confident and noticed a change in their performance. Students were deeply engaged and connected with Matthew's enthusiasm and verve. Matthew's shared about her art-form and the important steps in her career and took questions from students that ranged from her acting in popular films to her time on Broadway performing in Les Miserables.
This winter The Center will bring three additional musician groups to area classrooms for residency workshops. In December, Korby Lenker, a native Idaho singer-song writer (now based in Nashville) and short story author, will be working with 12th grade English students at Wood River High School as a part of the Artist Residency program.
This effort is part of the Sun Valley Center for the Arts' commitment to provide transformational arts and education experiences to students in our community. The Artist Residency program, one of five Arts & Education programs the Center provides for K-12 students in Blaine County, is designed to develop improvisational skills and self-expression, enhancing confidence, teaching empathy, and strengthening students ability to problem solve. The Artist Residency program is supported by Gayle Marie and in part by the Western States Arts Federation (WESTAF). The Arts & Education programs are supported by Anonymous, Cox Communications, Robbins de Beaumont Foundation, Heart of Gold Fund in the Idaho Community Foundation, The Richard K & Shirley S. Hemingway Foundation and public funding for the arts through the Idaho Commission on the Arts, the Idaho Legislature and the National Endowment for the Arts.
The Center is grateful for the enthusiastic participation of teachers and administration of the BCSD in welcoming artists into the schools to engage students in learning.