Return to Headlines
Robotics Teams Headed to State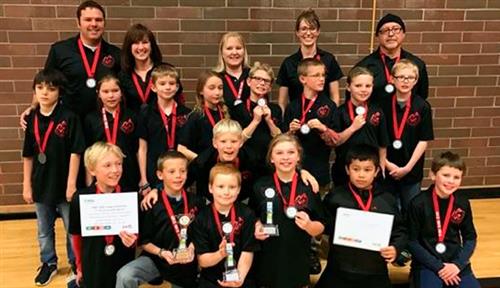 Congratulations to the two elementary BCB robotics teams that competed in the Regional First Lego League Qualifier and tournament. They took first and second place in the tournament, as well as first in robotic design, first in high score, and a Grand Champion trophy for Core Values, Project, and Robotics. Both teams will be going to the state competition.
The teams are a collaborative mix of
Bellevue
and
Hailey Elementary
students, tech teachers and parents. Team members included: Blade Sadorus, Kaden Mills, McKay Wilson, Saibree Bingham, Christopher Perez, Payton Ratliff, Rowan Star, Story Sharp, Lucas Smith, Marlowe Bradley, Emmett Stouffer, Isaiah Garrison, Charlie Seig, Noah Hawkins, and Jordin Jenner.
Volunteer coaches and mentors include Jaime Sharp, Krista Jones, Jamie Bridge, Jessica Miller, and Vic Morales. The teams practiced for four months before the tournament and are entirely dependent on volunteers.