Return to Headlines
WRMS Students Excel in Future City Competition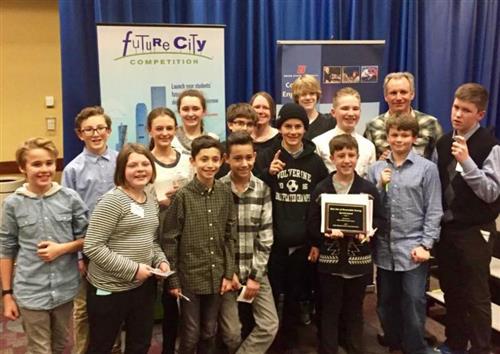 32 students from the Wood River Middle School GATE: Future Solutions class attended the 2016-2017 Idaho Regional Future City Competition. The students were divided into three teams: Team Olympus (7th grade students), Team OB City (7th grade students), and Team Metatropia (6th grade students). All three teams earned a special award:
Best Electrical Power Delivery System (sponsored by Bonneville Power Administration) - Wood River Middle School's Metatropia
Best Use of Renewable Energy - (sponsored by Idaho STEM Action Center) - Wood River Middle School's OB City
Best Land Surveying Practices Award (sponsored by National Council of Examiners for Engineering & Surveying) - Wood River Middle School's Olympus
Melanie Schrader, WRMS GATE teacher wrote, "This was a great experience and project for the students. 5 community/parent volunteers came to my class on a weekly basis to support the students allowing for individual educational experiences. 9 parents/volunteer chaperones supported the students and coached them, taught them, and worked with me to help them improve their skills while we were there.
Thank you to my incredible parent chaperones who supported me and my students through an eventful overnight field trip, my classroom volunteers, a supportive administration and team of teaching colleagues, and my students for working so hard to make this an amazing, memorable, and fabulous learning opportunity for us all! The projects are currently on display in the 7th grade hallway of WRMS. It is a privilege to be part of a school district and education team at WRMS that works to Inspire, Engage, Empower, and Educate every student that we have!
To view more photos go here.