Return to Headlines
Superintendent Letter to Parents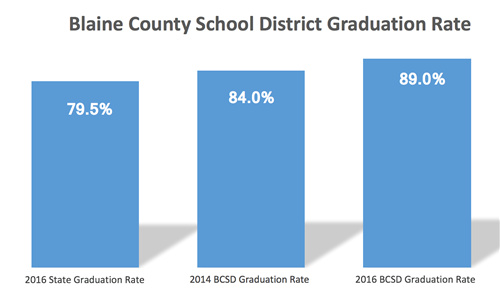 Dear Parents,
I have great news to share with you. The Blaine County School District graduation rate increased for the third consecutive year, from 84% in 2014 to 89% in 2016. The state graduation rate is 79.5%. This improvement is due to the great collaboration between parents, teachers, and students.

Thank you for sharing your children with us. Thank you for ensuring they are in school every day to learn. Consistent attendance at school is paramount to their success. Thank you for encouraging them to study hard and try their best.
It is that time of the year when students are enrolling in classes for the next school year. Please help make sure your students are enrolled in high level English, World Language, mathematics, science, and social studies classes. When you sign your child's class registration papers, be sure they are taking the classes that will challenge them and give them the best future.
If you have questions about what classes your child should take next year, please call your child's school and ask to talk to the principal.
With gratitude for all you do for your children,
GwenCarol Holmes, Ed.D.
Superintendent
Principals:
Alturas Elementary: Brad Henson, 578-5090
Bellevue Elementary: Mark Sauvageau, 578-5080
Carey School: John Peck, 578-5040
Hailey Elementary: Thad Biggers, 578-5070
Hemingway Elementary: Don Haisley, 578-5050
Silver Creek High School: Mike Glenn, 578-5060
Wood River High School: John Pearce, 578-5020
Wood River Middle School: Fritz Peters, 578-5030