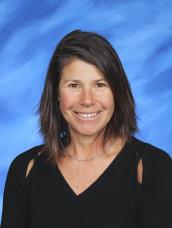 Phone: 208-578-5070 ext.5076
Email:
Degrees and Certifications:
Mrs.

Cooper

I have been an O.T. with Blaine County school district since 1999 working primarily in the south valley at the elementary level. As a school based practitioner, I evaluate and provide interventions addressing underlying factors that influence school participation, ie. neuromuscular factors, sensory processing, mental health and social participation. I assist school based teams by looking through a "whole child" lens. I use a variety of service delivery models including direct intervention, consultation, and collaboration with other school professionals. I am involved in the RTI process offering strategies and interventions across the tiers of intervention. I have particular interests in early childhood as well as being a member of the district wide autism spectrum disorder and behavior consulting teams.

Over the last 10 years I have completed ongoing training in the Developmental, Individual Difference, Relationship-based DIR® model which is a framework that helps me develop intervention programs to build healthy foundations for social, emotional, and intellectual capacities. More recently I have been excited about current research into the critical interplay of relationships, emotions and sensory processing and its impact on social emotional development and behavioral regulation. I am very excited to share these findings and practical school based applications with my colleagues to increase our ability to meet student needs.