Child Find - What if I suspect my child has a disability?
Do you suspect your child might have a disability?

Blaine County School District is responsible to locate, refer and identify all children, ages 3 to 21, who are suspected of having a disability and reside in Blaine County.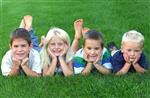 If a child is having significant difficulty with vision, hearing, speech, behavior, is experiencing slow development typical for his/her age, physical impairments, or learning difficulty, he/she may be a child with a disability. Early identification and intervention is essential to help ensure school success.
For children ages 3 to 5, Developmental Screenings will be held four times each year. For the 2017/2018 school year, the Screenings will be held in Queen of the Hills room at the Community Campus located at 1050 Fox Acres Road in Hailey, Idaho.

Next Child Find Event:

Friday, October 13th, 2017: 8 am - 1 pm
Thursday, January 25th, 2018: 8 am - 1 pm
Wednesday, March 21st, 2018: 8 am - 1 pm

Child Find Brochure - English Child Find Brochure - Spanish