Return to Headlines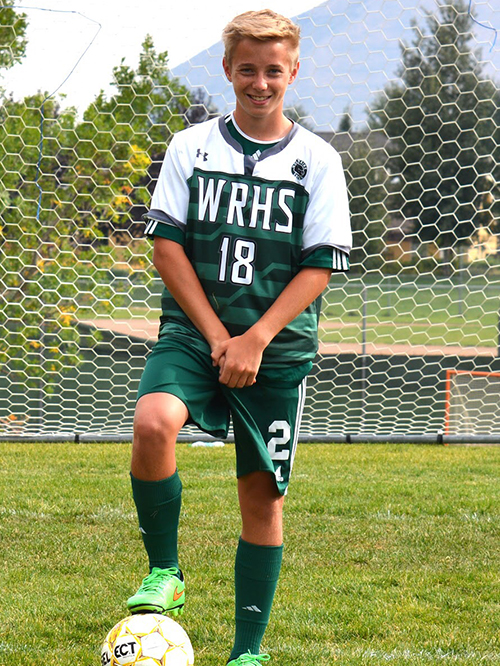 By Jesse Cole for the Weekly Sun
For DJ Gralenski, high school is all about living in the moment and enjoying the unique sporting culture in which he thrives.
As a senior at Wood River High School with a 3.9 GPA, Gralenski is a tri-sport athlete. In the fall, he is a forward on the men's varsity soccer team; in the winter, a center on the Sun Valley Youth Hockey team; and in the spring, attacker for the Wood River Warriors lacrosse team.
All of these are talents he has been cultivating from a young age.
"For soccer, my parents started me pretty much as soon as they could with U-10 Sawtooth," Gralenski said. "And I've been playing hockey since I was five, so for 12 years now. You really have to learn at a young age to be a good skater."
Beyond the enjoyment of the sport itself, for Gralenski the best part of any sport is the team aspect and the joy that comes from playing with his friends.
"I've been playing with the same kids ever since I was five," Gralenski said. "I've known them my whole life and shared the sport with them."
This is the key from which Gralenski's perspective on high school arises.
"It's all about enjoying it while it lasts," he said. "Time just flies by. Especially if you play sports, you have a limited amount of time playing with that team. You just have to enjoy it every year."
Still, while his time with the Wood River team might be limited, Gralenski's options with the sport are far from over. During the "Speed of Hockey" camp that he attended in the summer, he was approached by a coach from Pomfret School in Massachusetts.
"He said that I should consider doing a postgrad after I graduate here," Gralenski said. "So another year of high school at that school where I would be playing hockey for the year."
Otherwise, Gralenski is looking toward universities where he might continue his career on the ice. In the meantime, though, he is looking forward to each of his final seasons with his teams.
"Soccer's been going great so far, and I think it's going to be a lot of fun," Gralenski said. "And also with hockey season, this year we have a bunch of seniors and a lot of freshmen coming up that are super talented. I think we should have a very successful year and have a really good chance at a state title."