Return to Headlines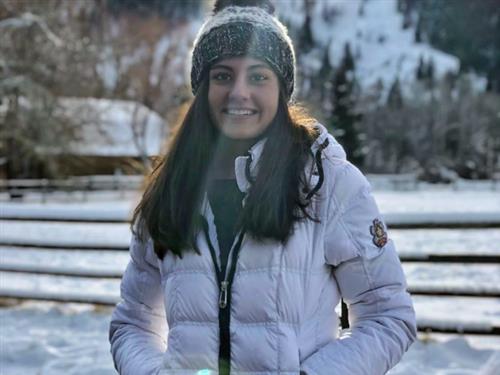 By Jesse Cole for the Weekly Sun
A student who defies being confined to a single category, Wood River High School senior Josie Saleen is incredibly multifaceted. She is multisport, multilingual and multitalented.
Now a senior, with a 4.0 GPA, Saleen explores her many different interests with A.P. Calculus BC, A.P. Government, Astronomy, Leadership, College English, Video Productions, and a dual-immersion translation class. The last is one of the things that makes Saleen most unique, as she has been a member of the Blaine County dual-immersion program since kindergarten, seeing it out through high school and taking many of her core classes in Spanish.
"I think it's so important for being able to understand where some other people are coming from a little bit better," Saleen said. "I've traveled a lot with my family to places like Costa Rica, where I've been able to converse with the locals, and they love it when you speak in Spanish because they can just carry on a conversation with you and tell you about their actual lives instead of just putting on their tourist show."
As a result of her experience with the program, Saleen is also a member of Nosotros United, a club at the high school that seeks to promote the blending of cultures between students and aid them as they strive to achieve their dreams.
Saleen is not only active in the school and Spanish-speaking community, but also in sports. Currently, she spends her time outside of school competing with the varsity volleyball team.
"For me, it's one of the most exciting sports because there's so much controlled power," Saleen said. "You have a 30-by-30 area to hit on. It seems very small, but there's so much room for error. You really have to communicate and everyone has to be aware of their position and role in the team."
After volleyball, Saleen won't be slowing down, as her last year comes to a close and the end of winter will see her running right into track, which challenges her in a different way than the court.
"You're able to use the constructive criticism to grow yourself in volleyball, but with running, you have to be really self-disciplined," she said.
While both of these sports bring out different skills for Saleen in regards to self-improvement, in the winter she also develops her nurturing side as a junior ski instructor, for which she just received her Level 1 certification.
With so many different talents propelling her forward, Saleen is limitless as she looks to further explore different subjects, other cultures, and herself.