Return to Headlines
Erika Greenberg Named Cox Conserves Hero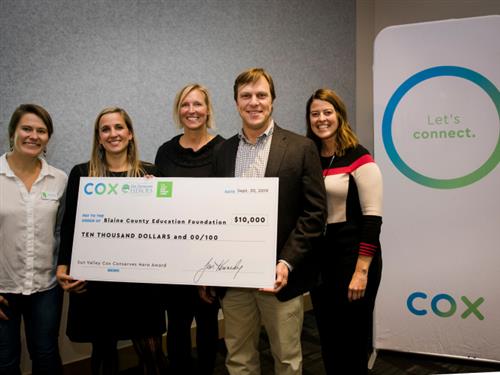 Vote here for Erika today!
Wood River High School educator Erika Greenberg has been named a "Cox Conserves Heroes" and awarded a $10,000 grant in recognition of her efforts. Greenberg was announced as the local Wood River Valley winner during a Sept. 30 community reception, where eight nominees were honored for their incredible volunteerism on a range of conservation efforts in the Blaine County area.
Greenberg will continue in the national competition, which runs through Oct. 15 at
www.CoxConservesHeroes.com
, where the public can vote online to help her possibly win an additional $50,000 for the nonprofit of her choice.
A panel of local leaders selected Greenberg for her work with the W.A.T.E.R. (We Appreciate the Earth's Resources) club, serving as its volunteer leader for 10 years. Greenberg works during her own time to assist and help develop student leaders dedicated to local causes, fostering environmental stewards for future generations. Greenberg has directed the $10,000 grant to the Blaine County Education Foundation, which will designate the funds to support W.A.T.E.R. Club programming and outreach.
Celebrating its 11th year, the Cox Conserves Heroes program, offered by Cox Enterprises and The Trust for Public Land, serves to honor environmental volunteers who create, preserve or enhance shared outdoor spaces in their local communities. In July, it accepted nominations in nine select markets: Arizona, California, Florida, Georgia, Idaho, Louisiana, Massachusetts, Virginia and Washington.
In the Wood River Valley, the Cox Conserves Heroes program is supported by Cox Communications, which provides telecommunications and entertainment services to residences and businesses in Sun Valley, Ketchum, Hailey and Bellevue.
A full list of Cox Conserves Heroes nominees follows:
· David Anderson, for his dedication to Wood River Valley land conservation
· Ron Fairfax, for his commitment to providing a safe and affordable community
space at Hailey Ice/Campion Ice House
· Susan Giannettino, for her enthusiastic volunteerism at nearly a dozen
community organizations
· Erika Greenberg, for her decade of volunteerism leading the W.A.T.E.R. club
(We Appreciate the Earth's Resources) at Wood River High School
· Bob Knoebel, for his efforts with youth outings, responsible fishing and healthy
habitats
· Scott Runkel, for his advocacy with Hailey Climate Action Coalition and
personal commitment to sustainability
· Jane Williams, for her volunteerism with Veggie RX
· And one additional volunteer nominee who wished to remain anonymous but
devotes time to the Wood River YMCA
Over the past 11 years, the Cox Conserves Heroes program has contributed nearly $1 million to environmental nonprofits and honored more than 200 volunteers across the country.
About Erika Greenberg
For the past 10 years, Erika Greenberg has been the volunteer leader for a student club called WATER (We Appreciate the Earth's Resources), where she works closely with young people committed to local environmental causes. She facilitates a group of passionate volunteers who collaborate with county, city and school groups to promote environmental education and outreach. Erika helps students identify their focus for the school year, prioritize their efforts and implement their ideas.
Erika's leadership and facilitation of the WATER club creates inter-generational momentum to reduce the human impact on the environment. And, through her ongoing support of both the students and the cause, the entire community bears the mark in meaningful and lasting ways, including recycling efforts, outreach, education and publicity related to environmental awareness. Students are the voice of the future, and Erika's work ensures their voice is heard
About Cox Communications
Cox Communications
is committed to creating meaningful moments of human connection through broadband applications and services. The largest private telecom company in America, we proudly serve six million homes and businesses across 18 states. We're dedicated to empowering others to build a better future and celebrate diverse products, people, suppliers, communities and the characteristics that makes each one unique. Cox Communications is the largest division of Cox Enterprises, a family-owned business founded in 1898 by Governor James M. Cox.