Return to Headlines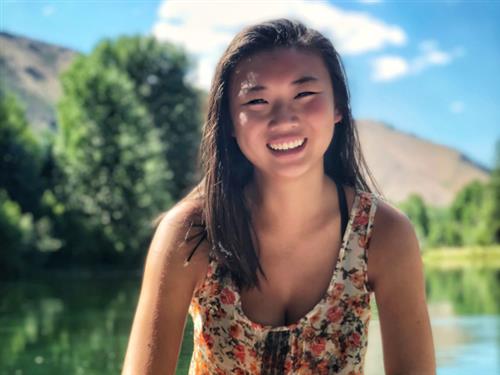 GRACE BLOOMFIELD
By Eric Valentine for the Weekly Sun
There will be much she misses about the Wood River Valley and its quality of life—the feeling of safety to which most residents here can relate. But Grace Bloomfield knows it's in the vibrancy of an urban setting where the next several years will see her grow most—at least for a while.
Bloomfield is a senior at Wood River High School with a penchant for painting and drawing; specifically, the geography the area is famous for.
"I mostly do landscapes, which I love because of the scenery in the Valley, and it's very relaxing," Bloomfield said. "When I paint, I lose track of time, which is why I love doing it. For me, it's as if everything fades away until it's just me, my paintbrush and a canvas. Landscapes are very easy for me, so I'm able to quickly produce them and I use it to manage the stress of school."
In her Advanced Placement art class during her junior year, Bloomfield chose a specific topic for her concentration: human rights. And it is her desire to make an impact on human rights that she says is pulling her to New York City, or a similar metropolis, to study political science before heading on to law school. All of this is in the hopes of helping people achieve equal rights.
"I don't know if that'll be through law, or another career path, but in the end, I want to advocate for peoples' rights," Bloomfield said.
At WRHS, Bloomfield has achieved a weighted GPA of 4.087. And she has accomplished that while taking rigorous courses. Her workload includes a number of A.P. classes (Government, Calculus) and college-level English, too.
There is an idealism to Bloomfield, but it comes across as grounded as the valleys and hillsides she paints, thanks to her involvement with clubs such as Model UN and Next-Gen Politics—a group that meets to deep-dive political issues such as immigration, climate change, and abortion.
"I'd want equality in all forms," she explained when asked about the impact she hopes to have on the world. "I would ensure that no discrimination would come from race, gender, political ideology, religious beliefs, sexual orientation or any other barriers that create inequality. I believe that all people are born equal and they should all be treated the same and given the same opportunities."
Each week, the Weekly Sun will be profiling a local high-school student. If you know someone you'd like to see featured, e-mail news@theweeklysun.com. The Student Spotlight is sponsored by the Blaine County School District.