Return to Headlines
GET SMART: WRMS AND WRHS STUDENT PERFORMANCE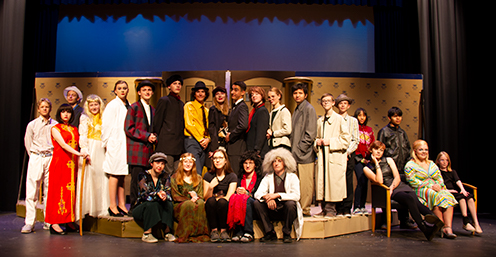 Wood River High and Middle School Drama Departments Present: Get Smart By Christopher Sergel. Based on the series created by Mel Brooks and Buck Henry.
Wednesday 10/2 and Thursday 10/3 at 6 pm, Friday 10/4 at 7 pm & Saturday 10/5 1 pm matinee
Wood River High School Performing Arts Theater
Tickets: $8 adults, $5 seniors and veterans, $3 Middle School, $1 Elementary and Children
Synopsis:
"Would you believe that seven police boats are closing in on us right now?" asks Maxwell Smart of the head of KAOS who now holds him captive. When the master criminal finds this a little hard to accept, the straight-faced Smart asks, "Would you believe six?"
With that question, this bright comedy-satire put an expression into the language. Smart is off on a bizarre new case in which he must stop the sinister organization known as KAOS from their most shameful plot. Their plan this time is to prove their power by blowing up the Statue of Liberty! This is too much, and Smart springs—perhaps we should say stumbles—into action. Magnificently assisted by beautiful Agent 99, Smart proceeds from one gigantic blunder to another—each, however, somehow turning into a masterstroke. In our opinion, this is the ultimate spoof of all secret agent thrillers. It's filled with easy-to-stage visual surprises that make the show exciting, enjoyable and a delight for your audience. (Dramatic Play Service)
Cast and Crew list:
Maxwell Smart: Max Gardenswartz, Agent 99: Juliette Rollins, Chief: Sarah Feltman, Ms. Finch: Madi Fortner, Agent 44: Ramsey Marquis, Hodgkins: Edgar Vega, Garth: Fisher Albright, The Princess: Hunter Ervin, Prof. Zalinka: Brenann O'Leary, Mr. Big: Nick Fehr, Professor Dante: Jayden Richcreek, Big Brother/VoiceOver Narration: Holden Blair, Little Brother/VoiceOver Narration: Ranger Wynne, Fred the Student: Brandon Enders, Helen the Student: Brielle Terrazaz, Myra the Student: Gracie Peterson, Jane the Student: Jessica Mandeville, Milton /Voice Over: Keane Phillips, The Man/Voiceover monologue: Diego Marin, KAOS Voice over: Lucas Smith, Agent 13: Qwydion Schiers, Mary Wong/Voiceovers: Bella Sandefer, Shirley Wong: Ishell Vega, Betsy Wong: Lula Christensen, Laura the Blonde: Lelu Norton, Ann the Blonde: Frankie Duke, May the Blonde: Kjedwryne Schiers, Sound Design & Video Editing: Max Gardenswartz, Set Design and Construction, Props, & Paint: Beginning Drama Class Performing Arts class and cast, Costumes and Film Director: Cathy Reinheimer and Cast/Crew, Lights: Hilarie Neely and Cast/Crew, Tech Crew: Bowen Johnston, Jaiman Sharp, Fabian Hurtado, Samantha White, Beginning Drama and the Advanced Performing Arts classes