Return to Headlines
IDAHO BIRD MIGRATION: DANCE STUDENTS PERFORM IN SCHOOLS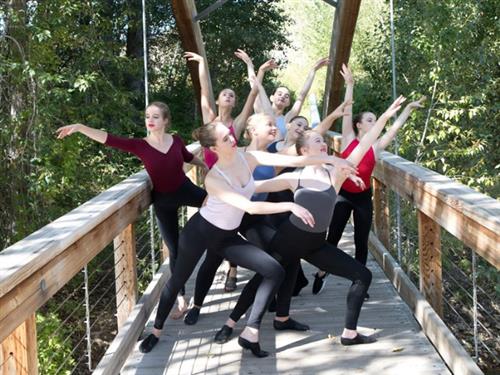 IDAHO BIRD MIGRATION: DANCE STUDENTS PERFORM IN SCHOOLS
A collaboration with teachers, students, and local bird experts will be featured in dance performances in Blaine County schools starting January 24.
Footlight Dance Company, under the Artistic Direction of Hilarie Neely, will feature dance students in school tour performances entitled "IDAHO BIRD MIGRATION" January 24-February 13, 2020 and invites the public to attend any of the free shows touring Blaine County Schools. There is a specific community free performance at the WRHS Performing Arts Theater at the Community Campus on Wednesday, February 5, at 10:00am.
This educational show uses the concert dance forms of ballet, modern, jazz, hip hop and tap dance for our discussion of bird migration in the Wood River Valley and larger Idaho landscape. Neely stated, "We want these performances to inspire and initiate discussions on our bird population that migrates through Idaho and strains for their survival. We want everyone to become more aware of the birds we have here, what we can do to help them survive and find ways to engage in the future of our valley bird population. We have collaborated with professional photographer Cintia Scola Quecada. Her images between pieces will bring us right to the fields of the Camas Prairie and WR Valley. Our research is from Poo Wright-Pullman, Larry Barnes and Alex LaChance, bird advocates, teachers and historians of our bird cultures. The Wood River Land Trust is also collaborating with us to help our students become more involved in the bird projects they are currently undertaking including the acquisition of land in Croy Canyon which is a major songbird sanctuary for Idaho migration.
We are presenting this show to all schools in our valley, including Alturas Elementary, Hemingway School, Carey School, Hailey Elementary, Bellevue Elementary, the Community School, WRMS, WR High School, and Sage, Silver Creek, and Syringa students will also attend performances at the WRHS Performing Arts Theater. A narration that accompanies the performances will discuss how the arts bring emotional response and a forum to discuss issues with a creative voice.
Our tour of the schools will take us to Alturas School, Friday, January 24, 9:30 am; Hailey Elementary, Monday, January 27, 1:15 pm; Hemingway School, Friday, January 31, 8:30 am; Bellevue Elementary School, Friday, January 31, 1:20 pm; WRHS will see the performance at WRHS Performing Arts Theater, Tuesday, February 4, 10:15 am; Sage School/Silver Creek HS/Syringa/Montessori School will see the performance at WRHS Performing Arts Theater, Wednesday, February 5, 10:00 am; WRMS, Friday, February 7, 2:30 pm; Carey School, Monday, February 10, 9:30 am; Community School, Thursday, February 13, 10:45 am. The public is invited to any of the school performances free of charge if they call the school and request to attend. Better yet! Free community performance Wednesday, February 5, 10:00 am at the WRHS Theater at the Community Campus has plenty of room to attend.
Our company of 16 dancers attend WRHS, Community and Sage School. Seniors Murphy Kendall, Shea Slanetz and Sam White will be participating in their final year of performances. Many of our dancers train as athletes taking 5-6 technique classes per week and including Pilates Conditioning. They rehearse weekends for six weeks prior to the performances, which brings their performance level to pre-professional. These shows are always a highlight for the Company dancers, as they assume the life of a touring professional, but still keep up their class load at school. It is a wonderful experience to perform for their peers and younger students as they discover dance as an art form with a powerful voice."
For more information contact Hilarie Neely, 208-578-5462. www.footlightdancecentre.com
_________________________________________________________________________