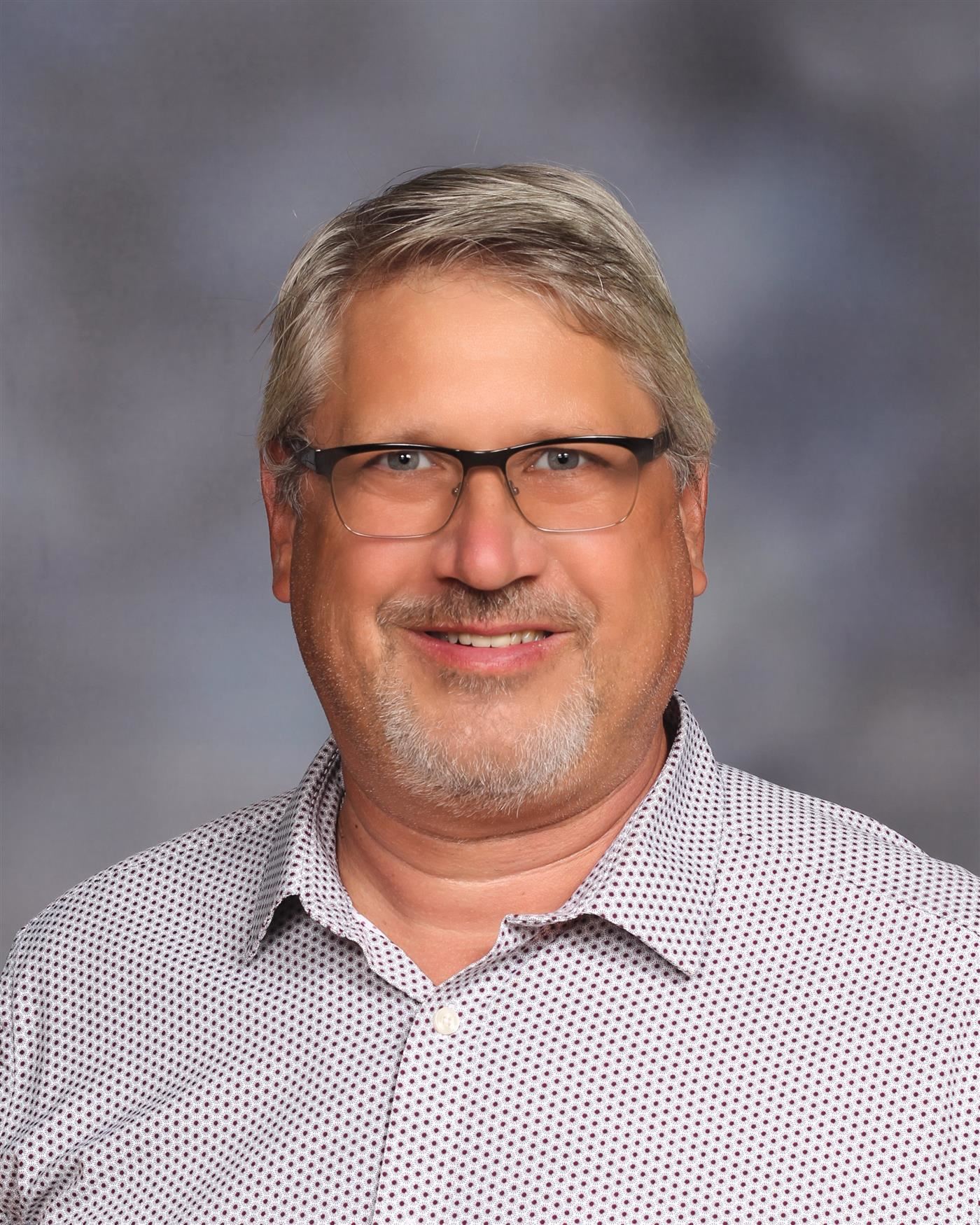 Phone: (208) 578-5020 Ext. 2249
Email:
Degrees and Certifications:
BA: Montana State University, Music Education WRHS Room: Music
Mr.

Stimac

Max Stimac was born in Great Falls, Montana during the fun­filled mid­sixties.

As a child he spent his summers camping and his winters freezing. His favorite cartoons were Looney Toons and Scooby Doo. His favorite TV show was The Wonderful World of Disney, which he couldn't wait to see every Sunday evening on his family's black­and­white television.

In 1984 he started dating the love ­of ­his ­life, Jaymie. After graduating from Colstrip High School (GO COLTS!), Mr. Stimac could not think of a better plan than to follow Jaymie to Montana State University (GO BOBCATS!) and try to convince her to marry him, which she thankfully did. Mr. Stimac had not initially planned on attending college, so he joined the US Army reserves (GO ARMY!) to help pay for his tuition.

In the spring of 1989 he student ­taught at his old high school (GO COLTS!) where his former teachers almost fainted at the change in him. Later that summer Max and Jaymie graduated with bachelors' degrees in education (Max's in K­12 music and Jaymie's in secondary math). The happy couple joyfully accepted teaching positions with the Blaine County School District that same fall. It was a whirlwind of good fortune.

Mr. Stimac (I would like to talk about Jaymie because she's smarter and more interesting, but this is his bio) spent thirteen happy years at Carey School (GO PANTHERS!) where he taught Band, Choir and Elementary Music. During that time Max and Jaymie were blessed with two lovely daughters, Isabella and Olivia. In the fall of 2002 Mr. Stimac transferred to his current position, teaching choir at Wood River Middle School and Wood River High School (GO WOLVERINES!).

Over the past 26 years Mr. Stimac has thoroughly enjoyed his collaboration with the Sun Valley Symphony School of Music, the Sun Valley Center for the Arts, and especially with his musical partners Jim Watkinson, R.L. Rowsey, and Dorinda Rendahl.

Mr. Stimac is passionate about music education, and education in general. Here is what some nice people have to say about Mr. Stimac:

"Mr. Stimac is a committed and enthusiastic teacher who is always eager to bring in new groups to share with his students. His openness to these opportunities allows his students experiences that are rare in a public school situation – a chance to work with professional, nationally known, touring musicians in their own classroom. He's been a very effective partner for The Center and his students are always rehearsed, ready and excited when the guest musicians arrive." ­­ Kristine Bretall, Performing Arts Director, Sun Valley Center for the Arts.

"Passion, experience and commitment to his students are the definition of Max Stimac and the foundation for his work with his students" ­­ R.L. Rowsey, Education Programs Artistic Director, SVSS.

"Max Stimac is one of the most dedicated music teachers I have had the privilege to work with; he is passionate, energetic and dynamic and truly cares about all of his students." ­­Kim Gasenica, Education Director, Sun Valley Summer Symphony

"Mr. Stimac is not just a great choir teacher, although he is that. He is one of those teachers that just wants to help kids succeed. He has gone out of his way, and out of his areas of responsibility, on multiple occasions to help our daughter with special projects and opportunities. We are so appreciative of his care and concern for kids at WRHS." ­­Terri M. Trotter,Chief Executive Officer, Sun Valley Center for the Arts.

In 2012 Mr. Stimac was elected to be president of the District IV music educators. He is a gold member of the Heritage Director's Circle Hall of Fame. His choirs consistently receive gold and superior ratings at district and national festivals. He has record numbers of students accepted into the All­ State and All­ Northwest Choirs. Mr. Stimac's concerts are always well received, and his groups can be seen performing all over the Wood River Valley and beyond.

Mr. Stimac enjoys world travel. Max and Jaymie have ridden their bicycles through England, Ireland, Scotland, Norway and the European continent. In 1996 they went around the world (from east to west) in 80 days, and they more recently spent two summers in France with their two daughters and their in­laws.

Max also enjoys cooking, golf, camping, canoeing and picnics on the lawn during symphony season. But other than spending time with his beautiful family, there is nothing Mr. Stimac enjoys more than being in the music classroom.