Return to Headlines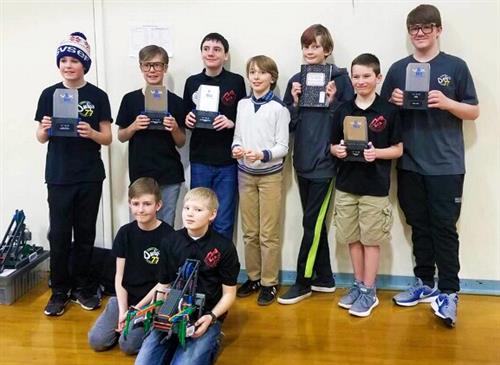 Wood River Middle School 6th & 7th Grade Robotics Team Wins State Tournament, Headed to World Robotics Tournament
Written by Jeremy Silvis, WRMS
Mar. 4th, 2019 – Hailey, Idaho – On Saturday March 2nd, the 6th & 7th grade Robotics team of Kameron Perron, Preston Kendall, Finn Wolfrom, Dylan Benson, Johny Blacker, Charles Rollins, Orrie DeShields, Jonah Pettinger, and McKay Wilson won the Idaho VEX IQ Robotics Competition held at Syringa Middle School in Caldwell Idaho. They were 2 of the 21 teams from throughout Idaho that participated in the qualifying event. The 7th Grade team of Perron, Kendall, Wolfrom, and Benson brought home the Tournament Champions Trophy, Robot Skills Trophy, and the AMAZE award. The 6th Grade team of Blacker, Rollins, DeShields, Pettinger and Wilson brought home the Tournament Champions trophy as well as the Excellence Award. The mixed grade level team of Isaiah Garrison, Chase Schwartz, and Luke Miller did exceptionally well, placing 4th in Robot Skills and 8th in overall qualifying rounds.
Now entering its 12th year, VEX IQ Robotics will bring together the top student-led robotics teams from around the world to Louisville, Kentucky, on April 28th to May 1st, 2019. Wood River Middle School's teams will be 2 of 400 Middle School teams from around the world that have qualified to attend this event Sponsored by the Robotics Education & Competition (REC) Foundation. The VEX Robotics and VEX IQ Robotics Competition is the largest and fastest-growing middle school and high school robotics program globally, with more than 16,000 teams from 40 countries playing in over 1,500 competitions worldwide.
Each year, a new engineering challenge is presented in the form of a game. With guidance from mentors and coaches, students design and build robots to address the challenge and then put their creations to the test in a series of tournaments. In addition to learning key engineering concepts, students gain valuable life skills including teamwork, perseverance, communication, collaboration, project management and critical thinking.
Jeremy Silvis, Teacher and Robotics Coach from Wood River Middle School says, "These kids have worked extremely hard and put in many, many hours before school to get where they are. Their hard work paid off and they are now the top Middle School VEX IQ Robotics teams in the state."
The Blaine County School District's K-12 robotics program (known at BCB Bots) was the first of its kind in the state of Idaho. Now in its tenth year at Wood River High School (WRHS) and its seventh year at Wood River Middle School, BCB Bots has participants from Elementary to High School.
Students are fundraising for travel expenses and donations can be made through Go Fund Me.
Photo:Dylan Benson, Finn Wolfrom, Jonah Pettinger, Charles Rollins, Orrie DeShields, Johny Blacker, Preston Kendall, Kameron Perron, McKay Wilson.