Return to Headlines
WRMS Track Season Wrap up- May 2019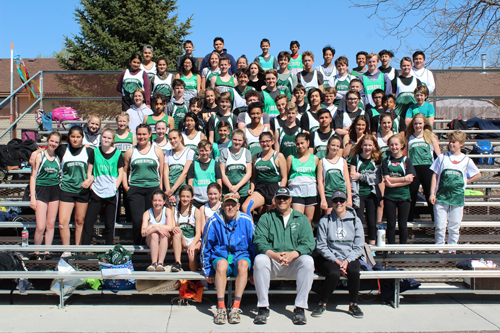 The WRMS track teams finished up a successful season with a final challenge of facing the bigger schools of our district at the Burley High School on Friday, May 10, 2019. With the Twin Falls and Minico schools giving stiff competition, the athletes of the WRMS rose to the challenge quite well. Our 8th Grade Girls team finished in fourth place in the team division, with the 7th Grade Girls in 7th Place, 7th Grade Boys in 7th Place and the 8th Grade boys in 6th Place.
Top finishers in each grade level are as follows:
7th Grade Boys:
Conrad Foster- 3rd Place-400m
4 x 100m Team of Edgar Enriquez, Charlie Seig, Anton Holter, Keane Phillips - 6th Place
4 x 200m Team of Trent Baker, Anton Holter, Charlie Seig, Porter Thompson - 6th Place
Medley Relay Team of Erick Marin, Kaiser Stroebel-Haft, Keane Phillips, Edgar Enriquez - 6th Place
7th Grade Girls:
4 x 100m Team of Nora Runte, Frannie Perry, Ava Agnew, Bridgette Normand - 5th Place
4 x 200m Team of Dionise Guerra, Gracie Peak, Isabel Trujillo, Emily Gonzalez - 7th Place
Medley Relay Team of Dionise Guerra, Gracie Peak, Isabel Trujillo, Emily Gonzalez - 5th Place
8th Grade Girls:
Samantha Chambers 2nd Place- High Jump, 6th Place in Long Jump
Sophia Vandenberg 3rd Place – High Jump
Lizzie Lipman 3rd Place- 100m, 3rd Place in 200m
Ava Smith 4th Place- 1600m, 4th Place in Long Jump, 7th Place in 800m
Svea Leidecker 4th Place- 800m, 6th Place in Long Jump
Juliana Hintemeyer 5th Place- Discus
Sidney Wilson 5th Place- Triple Jump
Angie Mindardo 7th Place- Shot Put
4 x 200m Relay 3rd Place- Maddie Miller, Lucy Pietsch, Gina Greenberg, Svea Leidecker
Sprint Medley Relay 4th Place- Morgan Rust, Kaylee Kolman, Lizzie Lipman, Ava Smith
4 x 100m Relay 6th Place- Caris Holden, Samantha Chambers, Sidney Wilson, Sophia Vandenberg
8th Grade Boys:
Ethan Hansen 1st Place- 1600m, 2nd Place in 800m
Rabbit Buxton 1st Place- Triple Jump
Michael Hurd 5th Place- High Jump
Zac Dilworth 7th Place- 100m High Hurdles
Isaih Miller 7th Place- 200m
Sprint Medley Relay 2nd Place- Alex Vallejo, Gabe Griffin, Payton Cole, Ethan Hansen
WRMS Track Coaches this year: Head Coach Craig Kaminski and Assistant Coaches Bill Cantrell, Kelsey Buchanan, Kristy Vandenberg
Coaches would like to give a special thanks to this year's athletes for their discipline and dedication during the season to improve their times and performances. Also, a special thanks to the volunteers for our home track meet and our "Golden Voice" Vice Principal Rob Ditch for lending his voice up in the Press Box. Finally, our season would never be a success without the enthusiasm, and commitment to excellence, from our own WRMS Athletic Director Mr. Jonah Torseth. Way to go Jonah!