Return to Headlines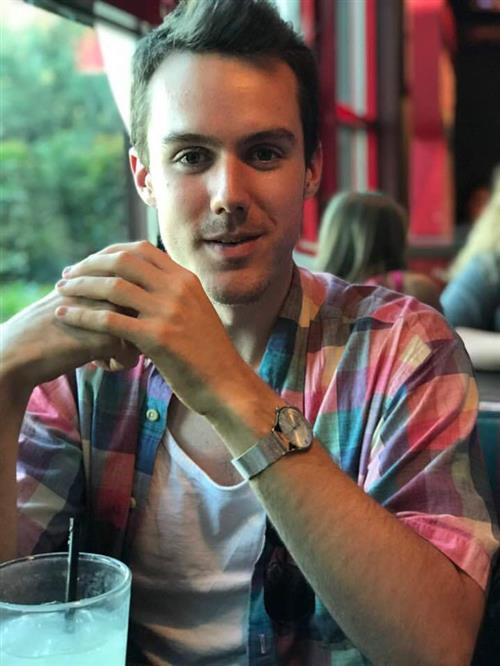 Sean Sheehan
Student Finds His Voice

By Jonathan Kane for the Weekly Sun
Sean Sheehan, a senior at Wood River High School who describes himself as a "nerd" with a hearty laugh, has discovered a new passion in life—theater.
Actually, Sheehan's interest in theater began a year ago when he realized he has a great singing voice.
"It started when I got a car and started singing along to the radio and I realized I might be able to do this," he said. "Then my good friend suggested I join the B-Tones, Wood River's all-male singing group."
The group has about 20 members and there are no auditions.
"I showed up for the first rehearsal and was hooked," Sheehan said. "I wasn't really nervous and they were very welcoming."
As to music, Sheehan says, "I love a little bit of everything," but lately he has shifted his interest to musicals, like "Hamilton" and "Dear Evan Hansen."
"I also have a lot of fun in my car singing along to '80s and '90s pop and rock—especially Queen," he said.
Before the B-Tones, Sheehan first sang publicly with the school's Drama Club.
"Everybody got a song to perform and mine was 'Luck Be A Lady,' from 'Guys and Dolls'," he said. "I liked it, but at first didn't know what to do. It had a super-low pitch. My teacher helped when he changed it to a higher pitch."
The performance was a big success.
"I was really surprised because I was nervous because some of the women in Colla Voce, the girls' choir at Wood River, performed right before me. Everyone thought it was great and I really surprised them.
"It's funny, because I'm fine in front of 500 people, but in front of 10, it can be a little nerve-wracking."
Last year, Sheehan was urged by a friend to try out for drama class.
"I arrived late and they were sitting around reading the script for their next show," Sheehan recalled. "I walked in, sat down and they gave me a script and asked that I read. I had no idea what I was getting into and didn't take it very seriously. But it went great and I joined."
Sheehan said he was nervous at first, but quickly got over it.
"I'm super-introverted and super-shy, so I never saw myself performing in front of an audience. I thought building robots and computers would be my future, but not anymore, as I'm hooked on music and acting."
That year, Sheehan entered a drama competition against other high schools in a piece written by a friend.
"I played the devil sitting on someone's shoulder and, of course, I freaked out. It was one minute, but it went pretty well.
"I got the bug and there's no stopping me now," Sheehan said.
Each week, the Weekly Sun will be profiling a local high-school student. If you know someone you'd like to see featured, e-mail hcrocker@blaineschools.org.