Return to Headlines
More Students to Receive Free Meals Thanks to Expanded Blaine County Education Foundation Support
The Blaine County Education Foundation has increased the number of students it will support with free meals after expanding the income eligibility guidelines for the program.
In November 2022, the foundation initiated the program to ensure all students who qualify for free or reduced-priced meals do not need to pay for breakfast or lunch for the rest of the school year. Additionally, BCEF will cover meals for students whose family income is up to 150 percent of the federal poverty level.
Doing so will help ease the burden on many working-class families who have seen costs for food and other items soar due to inflation over the past year.
Many BCSD families will now qualify for free or reduced meals, even if their applications were denied in the past. Parents and guardians are encouraged to
fill out an application
as soon as possible.
Additionally, students who currently receive reduced-price meals may now have the entire cost of their meals covered thanks to BCEF's support. These families will receive a written notice within the next several weeks.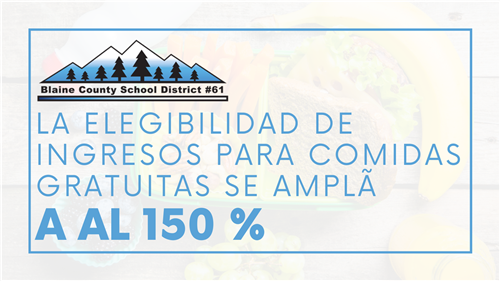 Más Estudiantes Recibirán Comidas Gratis Gracias al Apoyo Ampliado de Blaine County Education Foundation
La Blaine County Education Foundation (Fundación para la Educación del Condado de Blaine) ha aumentado el número de estudiantes que apoyará con comidas gratuitas después de expandir los lineamientos de elegibilidad por ingresos para el programa.
En noviembre de 2022, la Fundación inició el programa para garantizar que todos los estudiantes que califiquen para comidas gratuitas o de precio reducido no necesiten pagar el desayuno o el almuerzo por el resto del ciclo escolar. Además, BCEF cubrirá las comidas para estudiantes cuyo ingreso familiar sobrepasa hasta el 150 por ciento del nivel federal de pobreza.
Hacer esto ayudará a aliviar la carga de muchas familias de clase trabajadora que han visto los costos de alimentos y otros artículos aumentar considerablemente debido a la inflación durante el año pasado.
"Sabemos que este es un momento estresante para las familias, y nuestra fundación para la educación continúa proporcionando el mayor apoyo posible", dijo Jim Foudy, superintendente del Distrito Escolar del Condado de Blaine. "Hacemos un atento llamado a las familias [que aún no lo hayan hecho] a completar la aplicación para comidas escolares gratuitas y a precio reducido, incluso si no están seguros de si calificarán. Queremos agradecer una vez más al BCEF por su increíble apoyo y enfoque en ayudar a nuestros estudiantes en lo que más necesitan ".
Muchas familias BCSD ahora calificarán para comidas gratuitas o reducidas, incluso si sus solicitudes fueron denegadas en el pasado.Se alienta a los padres y tutores a
completar una solicitud
lo antes posible.
Además, los estudiantes que actualmente reciben comidas a precio reducido ahora pueden tener el costo completo de sus comidas cubiertas gracias al apoyo de BCEF. Estas familias recibirán un aviso por escrito dentro de las próximas semanas.
Puede encontrar solicitudes impresas para comidas gratuitas o a precio reducido en la oficina de la escuela o del distrito. Para acceder a la solicitud en línea, visite
https://www.blaineschools.org/domain/70
."