Return to Headlines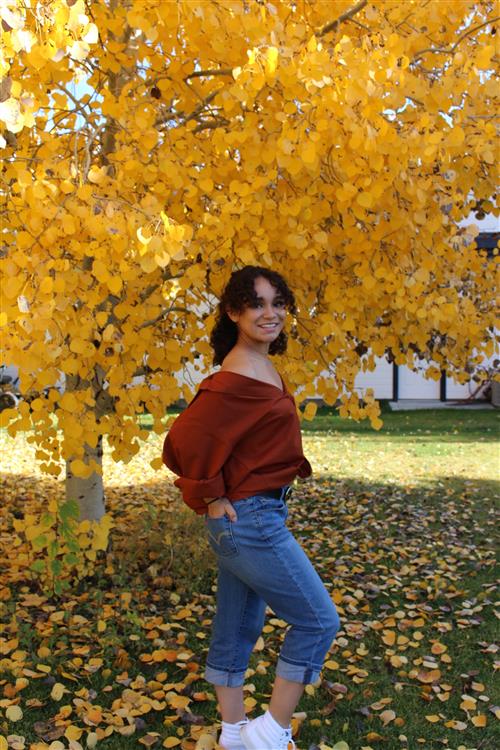 Traducción al español
Jullisa Romero
Has high hopes to become a pilot and fly commercial planes for Delta
By Emilee Mae Struss for The Weekly Sun
Wood River High School senior Jullisa Romero made a life-changing observation while traveling by air from the U.S. to Mexico.
"I always have enjoyed flying," Romero said, "and the thing that sparked my interest is that I noticed not many pilots are women, and even fewer women that are pilots are Mexican-American."
With her high school career quickly coming to an end, Romero plans to attend the College of Southern Idaho to complete general courses and then transfer to Treasure Valley Community College in Caldwell for pilot school.
After that, she hopes to attend Boise State University to get her master's degree in aeronautical engineering. And her ultimate dream is to fly commercial planes for Delta.
Born and raised in the Wood River Valley, Romero's first career interest—the culinary arts—took flight when she enrolled in the Family Career Community Leaders of America program in eighth grade. FCCLA helps students prepare for "the real world" by infusing certain lifelong skills into the students' curriculum, such as sewing and cooking.
"I really love cooking," Romero said, "and Momma Pratt (the FCCLA teacher) is so great and helpful."
The program has six different kitchens, each a different color, and the students sometimes get specific challenges like getting a random assortment of ingredients to make a meal from.
"I really like that part of it," Romero said. "Because growing up Mexican-American, my mom would always make up recipes and mix different recipes."
Romero says cooking is all about "playing around" and "trying a pinch of this or a dash of that" to get the perfect meal.
Every Tuesday, Romero and her classmates sell out of their pumpkin-chocolate chip cookies, lemon bars and jalapeño poppers. The funds go to raise money for new equipment in the kitchen.
Romero was also the cheerleading captain at WRHS her junior year, an activity she still loves to do but felt she had to set aside to focus on academics for her senior year.
"What I love about cheerleading," Romero said, "is that you get to be right on the floor in the action, cheering on your team, and I just get so excited to be that close."
Romero grew up skiing, ice skating and exploring the surrounding mountains, with Hailey's Carbonate Mountain a favorite. She also enjoys spending lengthy summer days on her longboard, riding the paved trails in Ketchum.
She is currently enrolled in A.P. Psychology, Government, Algebra II, College English, Culinary and GRIT.
GRIT is a class specifically designed to support students in advanced courses and to help them prepare for college.
Romero works as a hostess at the Mason family restaurants, Enoteca and Town Square Tavern, in Ketchum.
"The Masons are an amazing family to work for," Romero said. "It's more like working with friends than bosses."
Last year Romero traveled to India for one month with the Flourish Foundation, a Compassionate Leaders program based in Hailey. The program teaches students how to understand and navigate emotions through meditation and awareness practices.
"We ask ourselves questions like, what is anger? And what is pain?" Romero said. "And we break down all those phases and it helps me just see the world in a different way."
Romero counts the Flourish Foundation's Compassionate Leader program Ccordinator, Noah Koski, among her primary influences.
"Noah really inspires me because he is just so open and kind," Romero said. "And when I see him, he always has the biggest smile on his face."