Return to Headlines
Student Selected for STEM Mentor Program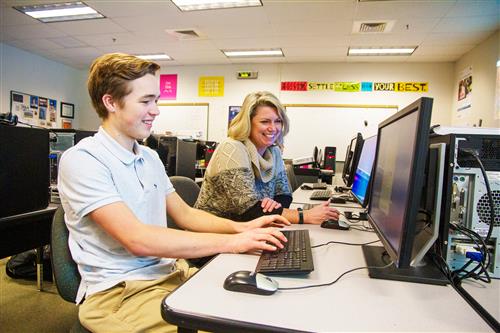 United Technologies' STEM U of the New York Academy of Sciences Enters Year Two with One Student at Wood River High School Paired with Volunteer Mentors
The New York Academy of Sciences' Global STEM Alliance (GSA) and United Technologies (UTC) are gearing up to welcome Calvin Geissler from Wood River High School in Hailey, Idaho, into the second cohort of their global STEM U mentoring program. Calvin Geissler's Computer Science teacher, Rebecca Borhnhoft Duncan, referred Calvin to the program. Duncan stated, "Independently, Calvin learned SQL Database coding and is studying Visual Studio for C#. He was a perfect fit for the New York Academy of Sciences' and United Technologies' STEM U program."
The New York Academy of Sciences is collaborating with UTC to match STEM-interested high school students (ages 13 to 18) from around the world with volunteer mentors. In 2019, the GSA accepted 541 students who will be paired with scientists, engineers, postdoctoral fellows and other STEM professionals dedicated to inspiring and motivating the next generation of STEM talent. Mentor-student matches are assigned based on location and mutual areas of STEM interest.
Participants receive one-on-one coaching and coursework emphasizing college readiness, leadership, communication and critical thinking. Students from around the globe will also network with a dynamic group of STEM professionals through social message boards, events and activities, all through a dedicated online platform.
"We are excited to welcome 541 students from 73 countries to participate in our second year of programming," said Hank Nourse, SVP and Chief Learning Officer at the Academy. "We are collaborating with United Technologies on this initiative because they understand the value of mentorship in encouraging students to pursue STEM and achieve their college and career goals."
"As a leading global technology company, we need to maintain our competitive edge, and we can only do that by attracting young dynamic talent to join our team," said name/title, UTC. "It's in our long-term interest to inspire the next generation to pursue STEM careers."
Learn more about the STEM U mentoring program here.