Return to Headlines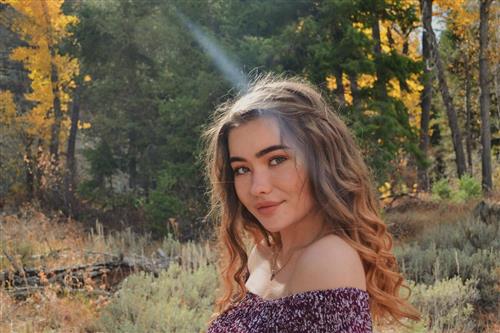 Traducción al español
ALEXANDRA BROOKS
Book Lover Brooks Boise Bound
By Emilee Mae Struss for The Weekly Sun
Wood River High School senior Alexandra Brooks took a break from public school in second grade when her parents chose to homeschool the struggling young reader.
"I was one of the youngest in my grade," Brooks said. "And I got stressed out with all the things we had to do."
Today, Brooks is proud to share that she is now one of the top readers in her class and steadily holds a 4.0 GPA. She attributes her improvement in reading to simply finding books she enjoys.
"I found books like 'The Maze Runner' that were super captivating," Brooks said. "And then I just didn't want to stop reading."
Brooks re-entered public school in eighth grade and her interest and skills in English and languages have since excelled. She says she realizes in hindsight that it was a "mind-over-matter" type of situation. Brooks is currently enrolled in Astronomy, Government, English, War & Modern World, Applied Math and A.P. Art.
"I really like art," Brooks said. "This year it has been fun to work with different mediums and making things look like they are moving on two-dimensional paper."
Brooks also likes to run. She joined the track and field team in elementary school and picked it up again upon returning to public school. She competes in the 100-meter dash, 200-meter dash and the long jump.
"My favorite event is the 100," Brooks said. "I definitely like the shorter races."
In the summertime, Brooks shared that she and her family travel almost every weekend to a spot in Hagerman along the Snake River. The location lacks cell service but not recreational opportunities. It's where Brooks learned to waterski and wakeboard. She enjoys snow skiing but has also made the transition to snowboarding, which she describes as similar to the movement of wakeboarding.
"It was really nice to transition into snowboarding because I already had a feel for it from learning to wakeboard," Brooks said.
Brooks says that the transition from homeschooling to public school was made easy because of her friendly peers at Wood River High School.
"We have a very spirited school," Brooks said. "There is something for everyone at our school."
Next year, Brooks plans to attend Boise State University to study psychology. She has used her mind to power over an obstacle that once seemed impossible to defeat. And now, she is embarking on a journey to discover just how powerful the human mind really is.
Each week, the Weekly Sun will be profiling a local high-school student. If you know someone you'd like to see featured, e-mail emilee.struss@gmail.com.